Pumpkin Cheesecake Bars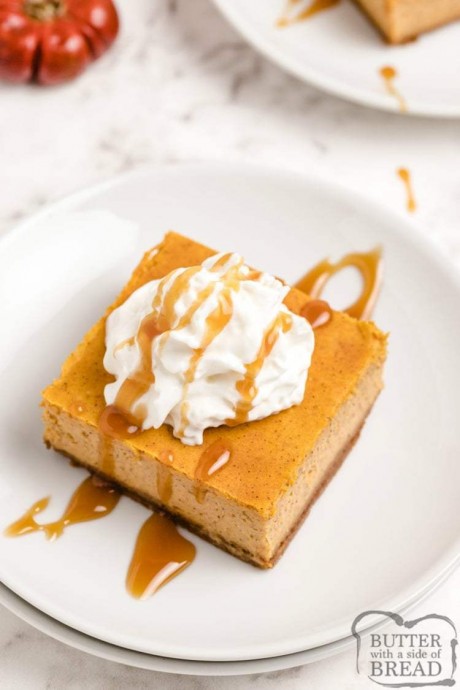 Pumpkin Cheesecake Bars made with a gingersnap crust, a creamy pumpkin cheesecake layer & topped with caramel sauce. Easy pumpkin cheesecake recipe even more delicious than pumpkin pie!
This is the most luxurious, creamy, smooth Pumpkin Cheesecake Bars recipe, and it's always made easier than most! It has just the right amount of pumpkin pie spice and pumpkin puree to give it tons of flavor — like the best pumpkin pie and cheesecake mash up you've ever had. These bars are perfectly spiced, creamy, super pumpkin-y, and downright delicious. Basically these are the fall cheesecake bars of your dreams. Make them for breakfast or for dessert!
Ingredients:
38 Ginger Snap cookies finely crushed (about 1 1/2 cups)
1/4 cup butter melted
4 pkg 8 oz each cream cheese, softened
1 cup sugar
15 oz pumpkin
1 Tbsp pumpkin pie spice
1 tsp vanilla
4 eggs
Caramel topping and whipped cream