Oreo Balls (Oreo Truffles)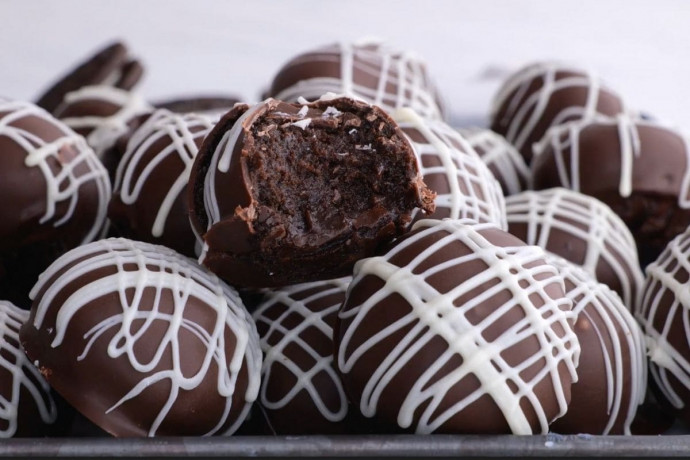 Easy Oreo Balls (aka Oreo Truffles) made with only four ingredients are a sweet and indulgent no-bake recipe that's ready in under 45 minutes!
Oreo Balls are the BEST no-bake dessert made from Oreos, cream cheese, and melted chocolate, then decorated with a drizzle of white chocolate. They taste like biting into a tiny Oreo Cheesecake!
The real difference is the filling. A true truffle filling comes from using a ganache base which is to say a warmed heavy cream and chocolate base that is cooled vs a cream cheese base. Using a ganache base allows you to keep your truffles at room temperature while using a cream cheese base mixture does not.
This recipe, whichever way you'd like to make it, is perfect for little helpers, because all they have to do is roll out the truffle balls and freeze, then dip in chocolate and refrigerate.
Plus they're only four ingredients, so they're really easy to prep and don't cost much to make at all! And many homes usually have Oreos in the pantry already.
Make sure you're putting the truffles down on a parchment paper-lined baking sheet or wax paper so they don't stick.
You can also make this recipe using Golden Oreos, that would give you a vanilla flavor vs. a chocolate flavor. You can also do this mixed with freeze dried strawberries for a strawberry shortcake Oreo truffle flavor. You can freeze these for 3-4 months in an airtight container. This is the perfect make-ahead recipe for the holidays because you can make a big batch of truffles and freeze until you're ready to serve!
Ingredients:
36 Oreos
8 ounces cream cheese
16 ounces semisweet melting wafers
4 ounces white chocolate melting wafers