Fish Taco Slaw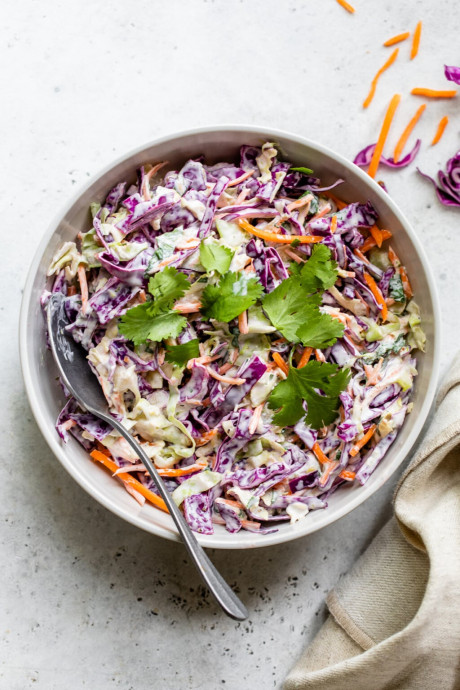 Layer your fish tacos with this creamy and tangy Fish Taco Slaw! Made from cabbage, mayo, sour cream, cilantro, and lime, this easy slaw comes together in minutes and imparts bright and fresh flavors with each bite. Do you love fish tacos as much as I do?! Whether they're made with cod, tilapia, catfish, salmon, or halibut, fish tacos are always light, fresh, and flavorful. All I need are a handful of toppings and a tasty drink on the side to make it the best meal ever.
One of my favorite toppings is this Fish Taco Slaw. It's a quick and easy slaw made from cabbage, bagged coleslaw mix, mayonnaise, sour cream, and a handful of herbs and seasonings. The light, fresh, and tangy flavors are the perfect complement to any variety of fish tacos and even shrimp or black beans tacos.
The best part? You can wrap up the leftovers and keep using the slaw over and over again. It goes well on salads, burrito bowls, tostadas, and more.
Ingredients:
3 cups shredded coleslaw mix (from a bag)
2 1/2 cups shredded red cabbage
6 tablespoons mayonnaise
1/4 cup sour cream
1/4 cup chopped cilantro, lightly packed
1 lime, zested and juiced
1/4 teaspoon black pepper
1/2 teaspoon kosher salt
1/4 teaspoon ground cumin