Sour Cream Coffee Cake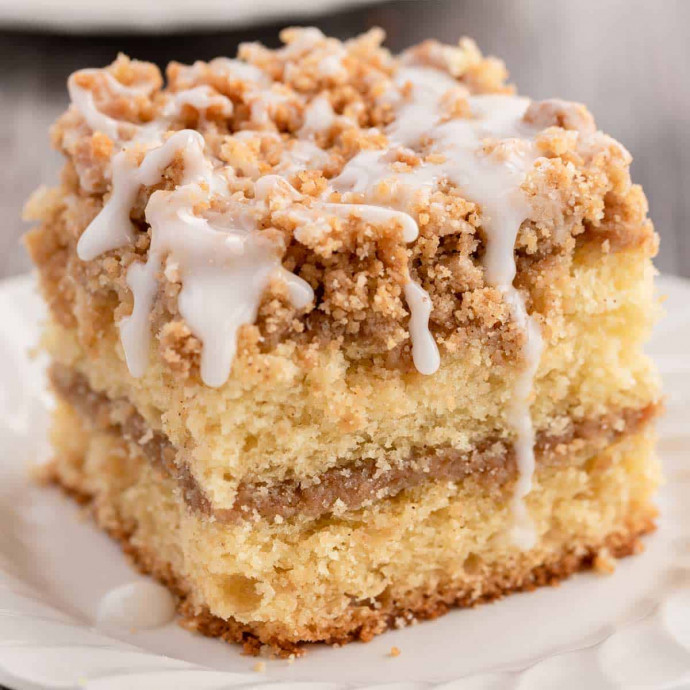 My favorite Sour Cream Coffee Cake is so moist and buttery, with a cinnamon streusel layer in the middle and on top, and drizzled with a sweet glaze! Perfect for breakfast, brunch, or dessert… grab a fork and enjoy!
If there's a quintessential breakfast/brunch recipe, it's the humble coffee cake. A cake with a rich and tender crumb, layered with layers of cinnamon streusel.
Made to be served alongside a fabulous cup of coffee or glass of cold milk, it's a great way to start off your day!
However, a great coffee cake is part breakfast/brunch, and part dessert, this recipe is perfect for any time of day.
We like to make this coffee cake to have for special occasions, as it's every bit as decadent as it is delicious!
If you've never had coffee cake before, you may be looking through the ingredients and wondering where the coffee is. Contrary to it's name, coffee cake doesn't traditionally have coffee in it! It gets it's name because it's delicious served alongside a cup of coffee.
Ingredients:
1 3/4 cups all purpose flour
1 cup packed light brown sugar
1 1/4 tsp ground cinnamon
1/4 tsp kosher salt
3/4 cup (1 1/2 sticks) unsalted butter (COLD) cut into small pieces
1/2 cup unsalted butter softened to room temperature
2 cups all purpose flour
1 1/4 tsp baking powder
1/2 tsp baking soda
1/2 tsp kosher salt
1 cup granulated sugar
2 large eggs
1 1/2 tsp vanilla extract
1 cup sour cream
1 cup powdered sugar
2 Tbsp whole milk