Baked Vegetable Frittata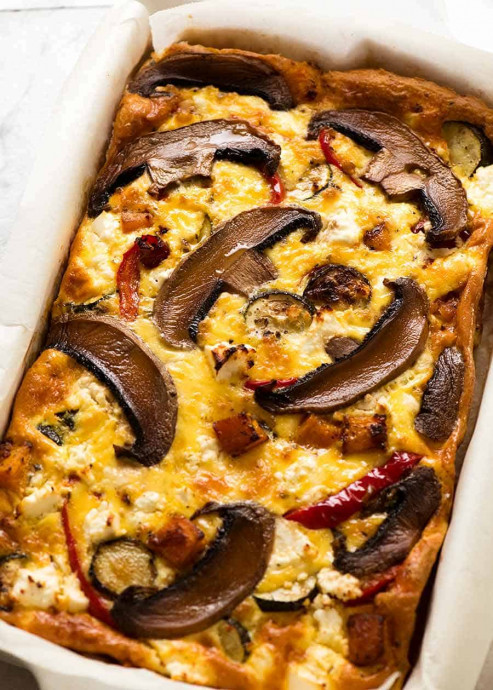 Loaded with herb garlic roasted vegetables, take this to work, make it for breakfast, brunch, or dinner. Use my frittata recipe formula to make this your own – try chicken, ham, spinach and artichoke, salmon and broccoli, or Tuscan antipasto!
Traditionally, frittata is started on the stove then transferred to the oven to finish cooking. This is the way I cook frittatas if I'm sautéing bacon or similar – so I can cook the frittata in the bacon fat (SO GOOD!).
But when I'm not, I make it entirely in the oven which is how I make this Baked Vegetable Frittata. This is the easier way to make frittata – just plonk everything in a baking dish, pop it in the oven and out comes something that looks very much like a quiche – minus the (calorie-loaded-totally-delicious-buttery) crust! Pumpkin, zucchini and capsicum is a great combo in frittata – for taste and the colours!
Ingredients:
10 eggs
3/4 cups cream or milk , full fat best
1/2 tsp salt and pepper, each
1 1/2 cups shredded cheese (cheddar, tasty, or other of choice)
100g/3 oz mushroom, sliced (I used 1 large, optional)
100g / 3oz feta , crumbled (optional)
HERB GARLIC ROASTED VEGETABLES (NOTE 2 FOR SWITCHES):
2 tbsp olive oil
2 garlic cloves, minced
3/4 tsp salt
1/2 tsp pepper
1.5 tsp mixed dried herbs (or use any of choice)
350g / 12oz pumpkin , butternut or sweet potato, 1.7cm / 0.7″ cubes
2 zucchinis , sliced 1.25 / 0.5″ thick rounds
1 large red capsicum (bell pepper), sliced