Hot Crab Fondue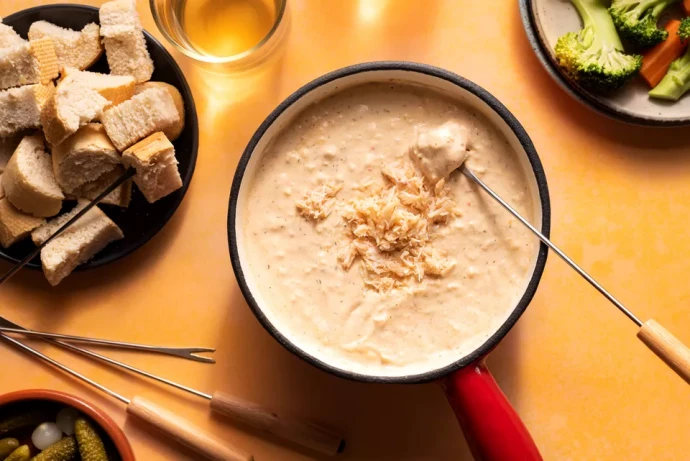 This recipe for Hot Crab Fondue is lightly spiced and flavored with garlic, shallots, wine, cream cheese, cheddar, dill, and Worcestershire sauce. Serve hot with breadsticks, French bread cubes, and/or cocktail crackers. This fondue is filling enough to make a meal.
Many epicures believe that seafood and cheese don't mix because the delicate flavors of seafood are overwhelmed by the aggressive flavors of strong cheeses. But a happy coexistence can be achieved by pairing shellfish with milder cheeses like the cream cheese and mild Cheddar in this recipe.
This would be considered a cheese fondue or Fondue au Fromage. The other two types of classic fondues are Fondue Bourguignonne (beef fondue) and Chocolate Fondue, although there are hundreds of variations on these three, as this recipe demonstrates.
Ingredients:
1 tablespoon unsalted butter
1 clove garlic, finely minced
2 tablespoons shallot, minced
1/4 cup dry white wine
1 cup half-and-half
8 ounces cream cheese, cut into pieces, at room temperature
4 ounces cheddar cheese, shredded
1/2 pound crab meat, picked over for shells
2 teaspoons Dijon mustard
2 tablespoons freshly squeezed lemon juice, from 1 lemon
1 teaspoon Worcestershire sauce
1/2 teaspoon Old Bay seasoning
1/2 teaspoon dried dill weed
Breadsticks, or French bread cubes, or cocktail crackers, for serving