Charred Asparagus With Miso Béarnaise Sauce Recipe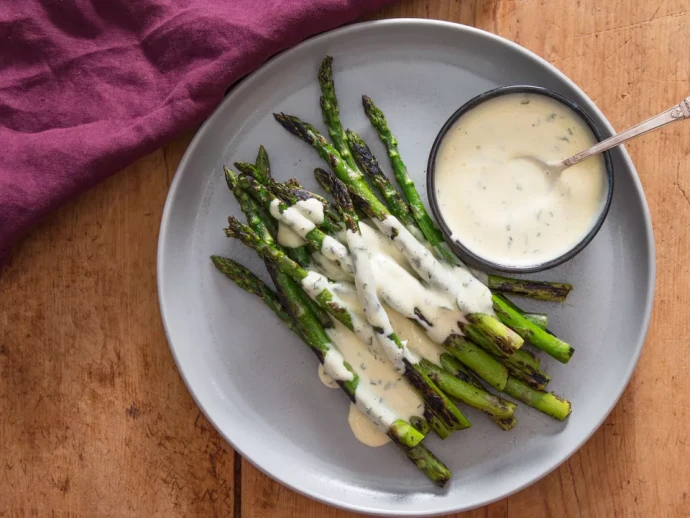 For an easy steak dinner side dish, char asparagus in the time it takes for your rib-eye to rest. Drizzle them both with a jazzed-up béarnaise that gets an umami boost from white miso. Why drop big bucks at a stuffy steakhouse when you can live large at home? No jacket required.
A small amount of miso lends savory depth to classic béarnaise sauce that complements the grassiness of spring asparagus.
Using an immersion blender to blend the béarnaise creates a strong emulsion.
Cooking asparagus most of the way in a dry cast iron pan cuts down on unwanted smoke in the kitchen. A finishing addition of oil quickly blisters the spears and helps seasoning stick to them.
Ingredients:
1/2 cup (120ml) dry white wine
1/4 cup (60ml) white wine vinegar
1 large shallot (30g), sliced thin
3 sprigs tarragon, leaves finely minced, stems reserved separately
1/2 teaspoon (2g) whole black peppercorns
2 large egg yolks (36g)
1 tablespoon (20g) white miso
12 tablespoons (168g) unsalted butter
Kosher salt and freshly ground black pepper
1 pound (450g) asparagus, woody ends trimmed
1 tablespoon (15ml) vegetable oil, divided