Iced Pumpkin Spice Latte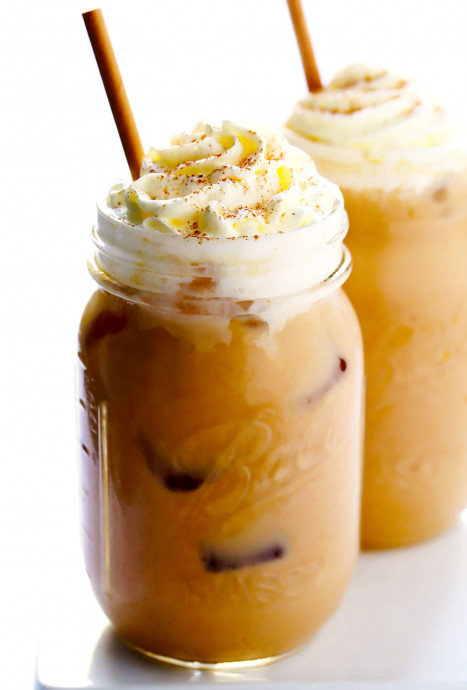 My favorite Iced Pumpkin Spice Latte recipe is made with real pumpkin, your choice of milk (dairy or plant-based), and naturally sweetened with just a hint of maple syrup. So tasty and ready to go in 5 minutes!
Here's a quick overview of the pumpkin spice latte ingredients that I like to use to make this recipe:
Espresso: Either two shots of espresso or about 1/2 cup of extra-strong brewed coffee. Caffeine or decaf is up to you!
Milk: Feel free to use whatever kind of milk you prefer here. I usually make my lattes with oat milk nowadays, but just about any milk will work.
Pumpkin purée: I just use canned pumpkin purée, but you can use homemade pumpkin purée if you happen to have some on hand. (Please note, though, that this is different than canned pumpkin pie filling, which includes extra sweeteners and spices.)
Maple syrup: This is also my preferred natural sweetener for this recipe, the amount of which you can adjust to taste. That said, feel free to use whatever sweetener you prefer in this recipe.
Vanilla extract: Just a little hint to add some warm vanilla flavor to your latte.
Pumpkin pie spice: Which you can either purchase store-bought or mix up yourself.
Sea salt: Just a tiny pinch of sea salt, which will help to bring out all of these delicious flavors.
Feel free to customize your own with whatever type of coffee (espresso or brewed coffee), milk (dairy or plant-based), and whipped cream (optional but delish) you prefer. And in less than 5 minutes, this delicious drink can be yours to enjoy in no time.
Cheers and enjoy, everyone!
Ingredients:
2 shots of espresso (or 1/2 cup strongly-brewed coffee)
1 cup milk (any kind)
1 tablespoon pumpkin purée
2 teaspoons maple syrup
1/2 teaspoon vanilla extract
1/4 teaspoon pumpkin pie spice
pinch of fine sea salt
ice
optional: whipped cream (or coconut whipped cream)