Crispy Baked Samosas with Potatoes and Peas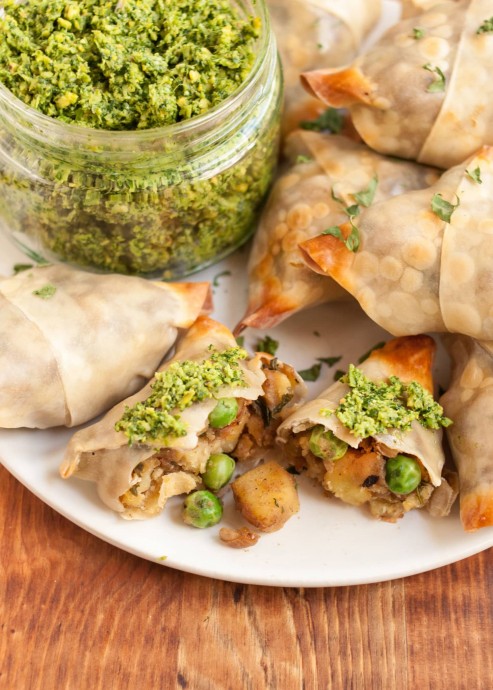 Samosas are crispy handheld puffs stuffed with spicy potatoes, peas, and onions — a plate of them is an appetizer to share with friends, two or three of them make an excellent lunch to eat on the way to class.
While these baked samosas don't quite reach that level of crispy, airy perfection of their deep-fried siblings, I'm giving myself a high-five for turning them into an everyday snack. They retain their crispiness for quite a while out of the oven and taste great even at room temperature — this makes them a really good choice for a party buffet. I also really like them the next day, packed into a tin for lunch or a long plane ride. They're more chewy than crispy at this point, but still so very tasty and satisfying.
And yes, you can freeze them! The baked or unbaked samosas can be frozen for up to three months. When you're in the mood for a hot snack, just bake them as usual or warm them in the oven.
Ingredients:
1 1/2 pounds yellow potatoes (2 large)
1 medium yellow onion, diced
1-inch piece ginger, peeled and grated on a microplane (or minced)
1 medium hot chili, finely diced (remove the ribs for less spice, if desired)
1 1/2 teaspoons ground cumin
1 1/2 teaspoons garam masala
3/4 cup peas, fresh or frozen
1/2 cup roughly chopped cilantro, loosely packed
1 package egg roll wrappers (6 inches by 6 inches)
1 large egg, for the egg wash
Cilantro-coconut chutney, store-bought or homemade, to serve