Chicken Fajitas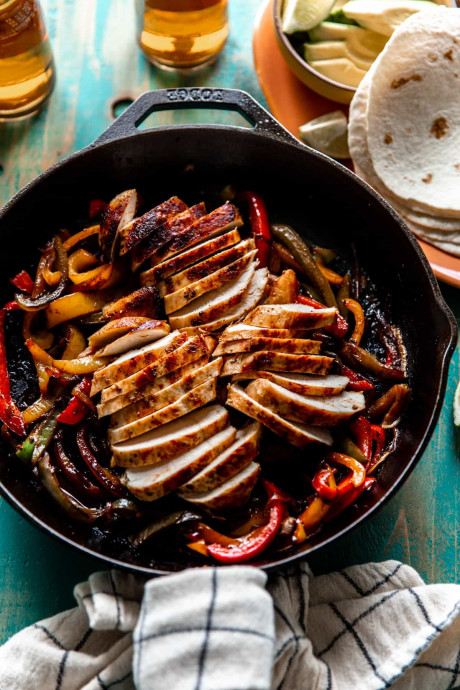 Chicken Fajitas are a great weeknight dinner option. Prep ahead by making the homemade fajita marinade ahead of time. When it comes time to cook, this meal cooks up in 30 minutes or less. Pair with some soft homemade flour tortillas and some authentic guacamole for a classic Tex Mex meal. This is a healthy dinner idea that the entire family will love!
This homemade fajita marinade uses a combination of pineapple and fresh lime juice. Both of these juices tenderize the meat, and give us great fresh flavorings.
We will save some of the marinade to grill the vegetables in to give us even more flavor!
Cooking the chicken to the correct internal temperature, giving it rest, and slicing against the grain gives us tender and juicy chicken.
Serving with fresh homemade flour tortillas takes these chicken fajitas to the next level.
Quick and easy: the marinade can be made ahead of time and the chicken can marinate throughout the day. Then when it's time to cook all that's needed is 30 minutes!
Ingredients:
3 lbs chicken breast, boneless, skinless
½ cup pineapple juice
3 tbsp lime juice, freshly squeezed
¼ cup extra virgin olive oil
3 tbsp soy sauce
6 cloves garlic, minced
1 tsp salt
½ tsp ground black pepper
¼ tsp ground cumin
½ tsp dried oregano
3 bell peppers, de-seeded, thinly sliced
1 white onion, thinly sliced