Fattoush Salad with Mint Dressing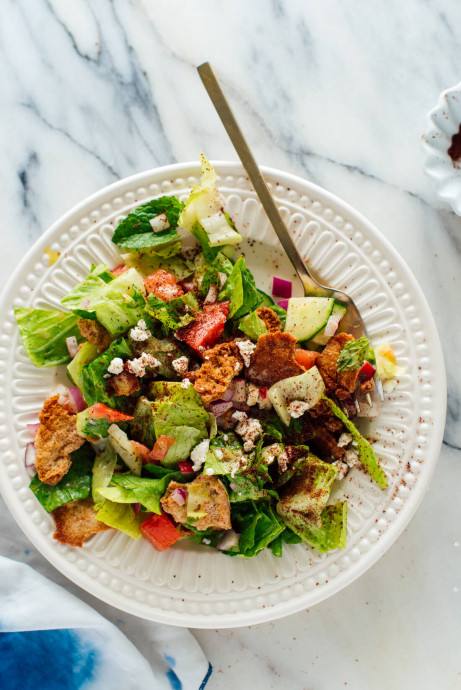 Ever tried fattoush? Once you do, you'll never forget it! Fattoush salad is a colorful Lebanese salad that's bursting with fresh produce, lettuce and mint. It's refreshing, crisp and satisfying.
Fattoush is the salad to make if you have random leftover fresh vegetables (radish, carrots, tomatoes, cucumber, etc.) and pita bread. You really can't go wrong with the proportions here.
Simply tear up the pita and bake it with some olive oil and salt. You'll end up with crisp, toasted Mediterranean croutons.
Fattoush is the Lebanese solution for stale pita bread, in the same way that French toast uses up stale bread. Isn't it smart?
Here's my twist on traditional fattoush salad: Instead of making a basic lemon dressing, I used my fresh mint dressing. The dressing is super easy to make in the food processor, and infuses the salad with even more delicious mint flavor. It's irresistible!
Ingredients:
Toasted pita
2 whole grain pitas (7" diameter), torn into bite-sized pieces
2 tablespoons extra-virgin olive oil
Pinch of fine sea salt
Salad
½ batch fresh mint dressing (you'll need ½ cup, but make the full batch because this dressing is great to have on hand)
8 to 10 ounces fresh romaine lettuce, chopped (about 1 medium head of lettuce)
1 large tomato, chopped, or 1 cup quartered cherry tomatoes
1 cup quartered and thinly sliced Persian or English cucumber
1 cup chopped red onion (about 1 small onion)
½ cup chopped radish (about 3 medium)
½ cup torn fresh mint leaves
½ cup crumbled feta (optional)
Ground sumac, for sprinkling on top