Boston Cream Pie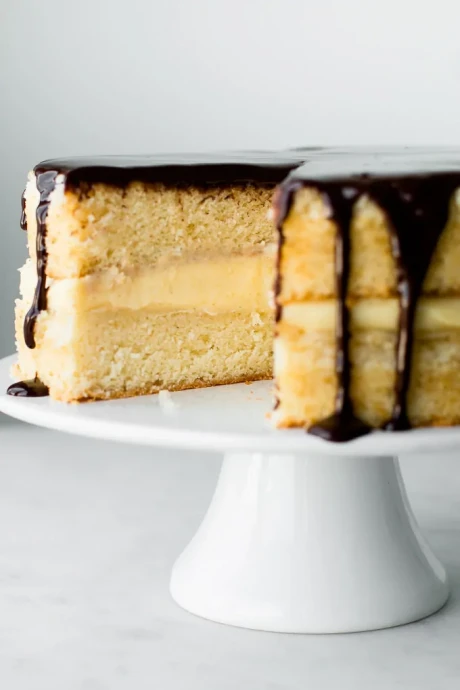 The best Boston cream pie recipe is here! And we're making it from scratch. It has two layers of buttery vanilla sponge cake sandwiched together with a creamy pastry cream filling, and topped with chocolate ganache. Every bite will melt in your mouth!
Boston cream pie is a simple delicious cake, usually a sponge cake or butter cake, filled with a thick layer of vanilla pastry cream and glazed with a shiny chocolate ganache. It's called Boston cream pie rather than Boston cream cake because when it was invented way back, the common pans that were used to make cakes were pie pans.
You can make the pastry cream a day or two ahead and keep it in the fridge. Whisk it before using to remove any lumps. It won't keep well in the freezer. The cakes can be made ahead of time and kept, covered in plastic wrap, in the freezer for up to 2 months, and thawed overnight in the fridge. I recommend making the chocolate ganache just before assembling the cake. It's quick and easy to make, and it'll have the best texture if making it right before. After making the ganache, let it sit at room temperature for a few minutes until it thickens slightly, then pour over the cake. The cake is best the day it's made or the day after, so you can assemble it a day ahead if you have room for it in the fridge. Leftovers can be kept for another 2-3 days in the fridge. Allow it to come to room temperature before serving.
Ingredients:
Cake:
1 and 1/3 cups (185 g) all-purpose flour
2 teaspoons baking powder
1/4 teaspoon salt
1/2 cup (120 ml) whole milk
1/2 cup (1 stick/115 g) unsalted butter
1 and 1/2 teaspoons pure vanilla extract
3 large eggs , at room temperature
1 and 1/2 cups (300 g) granulated sugar
Pastry Cream:
5 large egg yolks
1/2 cup (100 g) granulated sugar
2 tablespoons (18 g) cornstarch
2 tablespoons (18 g) flour
1 cup (240 ml) heavy cream
1 cup (240 ml) whole milk
1 and 1/2 teaspoons pure vanilla extract
1/4 cup (55 g) unsalted butter , softened to room temperature
Chocolate Ganache:
115 g/4 oz. semisweet or bittersweet chocolate , finely chopped
1/2 cup (120 ml) heavy cream