Easy Apple Slice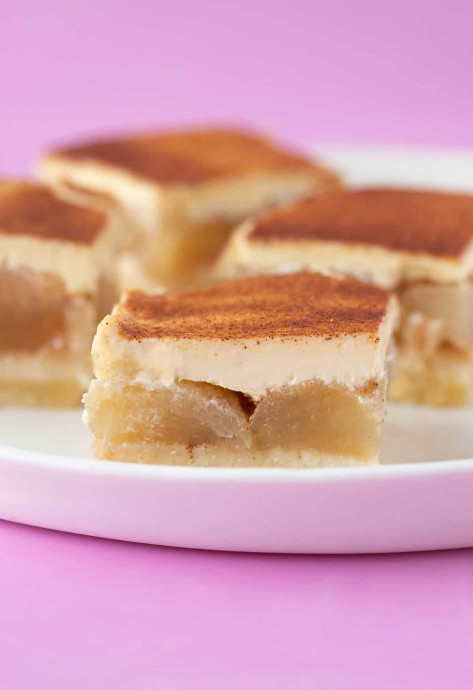 Meet my Easy Apple Slice made from scratch. This simple recipe uses canned apples to make a layered dessert that looks amazing and tastes even better. All the flavors of apple pie, with half the fuss.
A simple Apple Slice that tastes like apple pie. Umm yes please! I'm going to show you how to make a buttery coconut crust (from scratch), and a tart apple cinnamon filling. Finished with sour cream and a sprinkling of cinnamon sugar, this slice is then baked to perfection. You can enjoy it warm straight from the oven as the perfect cozy dessert, or let it chill and slice it into bite-sized pieces for morning or afternoon tea. Easy, tasty and perfect for feeding a crowd.
This Apple Slice is quick and easy to make. You don't even need an electric mixer. Let's break it down into the three individual elements, starting with that buttery crust.
Ingredients:
Shortbread crust
140 grams (1 cup) plain flour or all purpose flour
65 grams (1/2 cup) icing sugar or powdered sugar
75 grams (3/4 cup) desiccated coconut
1/4 teaspoon salt
115 grams (1/2 cup or 1 stick) unsalted butter, melted
Apple filling
600 grams (2 and 1/2 cups) canned apple slices
1/2 teaspoon cinnamon
1/4 teaspoon nutmeg
Zest of 1/2 lemon, optional
Sour cream layer
240 ml (1 cup) full fat sour cream
1 tablespoon caster sugar or granulated sugar
1/2 teaspoon cinnamon