Pizza Macaroni & Cheese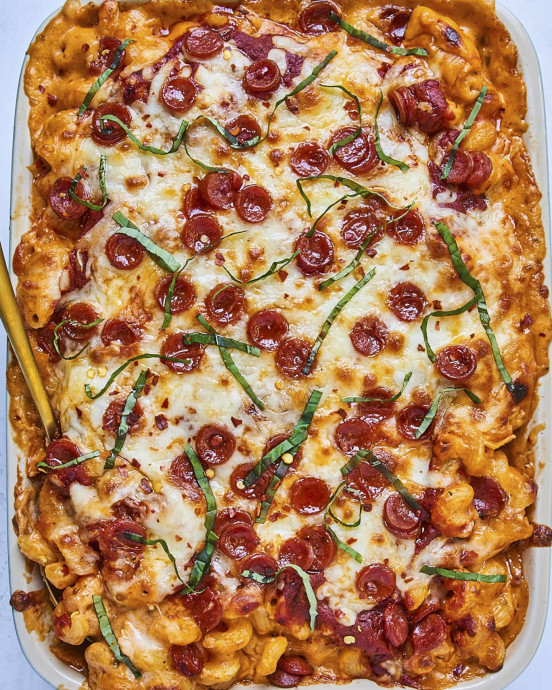 Pizza night takes a surprising turn when it's scooped, not sliced. This pizza and mac and cheese mash-up recipe is perfect for those times when you just can't choose. It's decadent and over-the-top in all the right ways, but mainly it's just downright delicious. And just like pizza, it can be topped with whatever you like. We went with pepperoni, but the customization potential is endless.
What is the key to super-creamy and cheesy mac and cheese? A proper cheese sauce! Start by making a béchamel sauce (cooking butter, flour, and milk until thickened), then reduce the heat to low and add the cheese slowly, stirring in small handfuls at a time, to ensure you get the perfect melt.
Ingredients:
Kosher salt
12 ounces dried cellentani or cavatappi pasta (about 4 cups)
1 small yellow onion
4 cloves garlic
3 tablespoons unsalted butter
3 tablespoons tomato paste
3 tablespoons all-purpose flour
1 1/2 teaspoons dried oregano
1/2 teaspoon red pepper flakes, plus more for garnish
3 cups whole milk
6 cups shredded mozzarella cheese (1 1/2 pounds), divided
1 cup prepared pizza sauce or marinara
1/2 cup mini pepperoni slices
4 large fresh basil leaves