White Chocolate Chip Gingerbread Bars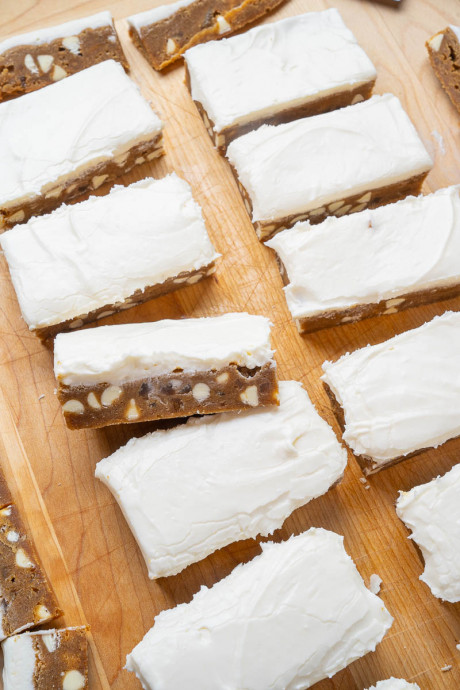 Gingerbread cookies in thick and chewy bar form with white chocolate chips, pieces of candied ginger and a white chocolate cream cheese frosting!
Gingerbread cookies are a classic and I also enjoy gingerbread bars, the same gingerbread flavour in a larger, soft and chewy bar form! Yum! This is a pretty basic bar recipe that uses all brown sugar and molasses, which adds flavour and the brown colour. The spices include plenty of ginger along with some cinnamon, nutmeg and cloves. I like to add white chocolate chips and candied or crystallized ginger (cut into small pieces) to the bars; you can never go wrong with chocolate and the candied ginger adds even more ginger flavour! These bars are amazing without icing but I enjoy topping them with a white chocolate cream cheese frosting!
Ingredients:
For the bars:
1 cup (2 sticks) butter, softened
1 1/2 cups brown sugar, packed
1/4 cup molasses
2 eggs
1 teaspoon vanilla extract
2 cups all purpose flour
1 teaspoon baking powder
1/2 teaspoon salt
1 teaspoon ginger
1/2 teaspoon cinnamon
1/4 teaspoon nutmeg
1/8 teaspoon cloves
1/3 cup candied/crystallized ginger, diced
1 cup white chocolate chips
For the icing (optional):
8 ounces cream cheese, softened
2 cups powdered/confectioners sugar
1/2 cup white chocolate chips