Ground Turkey Pasta Bake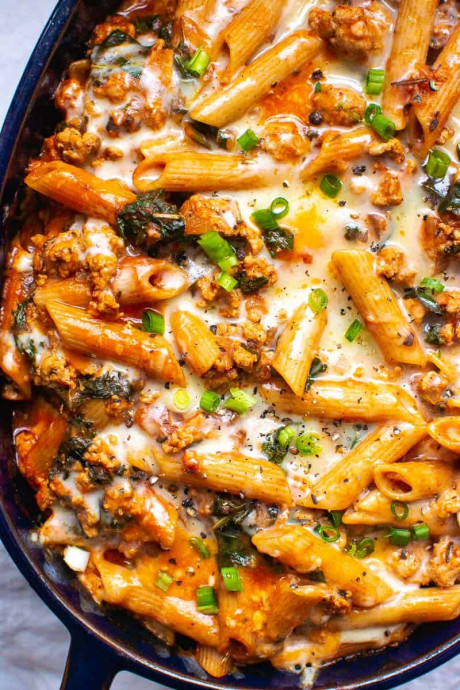 Ground Turkey Pasta Bake is a healthy casserole made with ground turkey meat, whole wheat pasta, kale, and a light sprinkling of bubbly melty cheese. This is an easy restaurant-quality dinner made with kitchen staples!
Chicken enchiladas and unstuffed cabbage rolls are other top-notch homemade casseroles to make when you crave comfort food.
This ground turkey pasta bake is an updated version of my tried and true, kid-friendly recipe. Just a few tweaks and this comfort meal dish has become even more amazing! If your house is anything like mine, everyone loves pasta with cheese. So sneaking in a bit of kale was no big deal!
This complete quick and easy, weeknight meal is made with pasta, ground turkey, loads of seasoning and baked until bubbly and golden brown. Layers of flavors that pair so well with a simple salad and a glass of red wine!
Optional Add-In's and Variations: Ground turkey meat substitutions like ground beef, ground chicken, shredded chicken, ground sausage, bacon crumbles, meatballs, you name it. Jarred marinara sauce with its own seasonings allow for a bit more convenience and aid in cutting down on the ingredients list. Swap the mozzarella for a sharp cheddar or use a bit of both. Omit red pepper flakes to reduce heat. Add more veggies like broccoli, zucchini, bell peppers, mushrooms, or carrots – just like healthy pasta salad, swap the vegetables to adapt to your families taste!
Ingredients:
1 lb ground turkey extra lean
3 cups (10 oz) whole wheat penne/fusilli pasta uncooked
4 – 5 cups kale stems removed & chopped
1 large onion finely chopped
4 large garlic cloves minced
1 tbsp olive oil extra virgin
1 tbsp oregano dried
1 tsp rosemary dried
1 tsp basil dried
Pinch of red pepper flakes
1/2 tsp salt
Ground black pepper to taste
28 oz tomato sauce low sodium
1 tbsp honey or maple syrup
1 tbsp balsamic vinegar
1 cup pasta water
2 cups 6 oz mozzarella cheese shredded & divided
1/3 cup Italian parsley chopped
Cooking spray