Creamy Tortellini Soup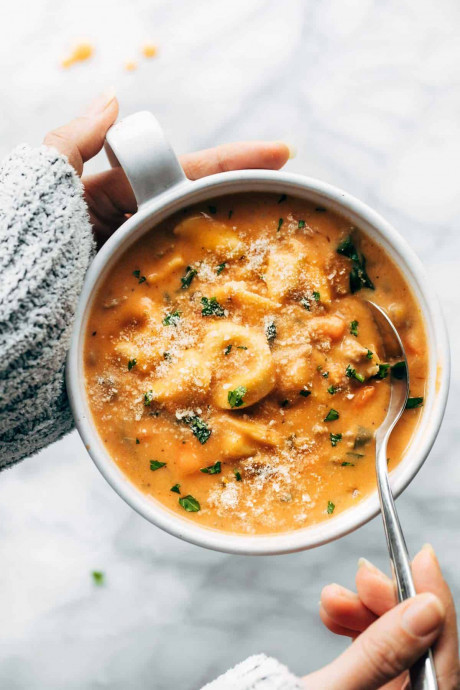 There's something a little magical about savory sausage coming together with a sauté trio of onion, carrot, and celery, a generous bit of garlic, fresh spinach, and cheese tortellini, all of it enveloped in a rich and creamy base that is just tangy and tomatoey enough to cut the richness. Magical, I guess, or you could also just say alarmingly easy to eat bowl after bowl after bowl.
It's one of those meals that you make and then you can't stop thinking about the next day. If you're into all the cozy vibes going on here, here are a few more ways to make it happen.
Ingredients:
1 lb. Italian sausage
1 small yellow onion, diced
2 celery stalks, diced
2 large carrots, peeled and diced
3 garlic cloves, minced
1 teaspoon kosher sea salt
1/2 teaspoon ground black pepper
1/2 teaspoon Italian seasoning
1 teaspoon fennel seed, crushed or chopped
1 6-oz. can tomato paste
1/2 cup dry white wine
½ cup all-purpose flour
6–7 cups chicken broth
14 oz. refrigerated cheese tortellini
2 cups half and half or heavy cream
1 handful chopped fresh spinach