Slow Roasted Salmon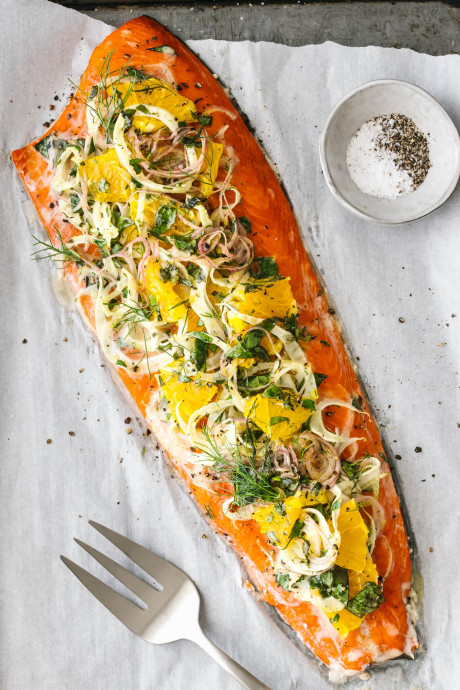 This slow roasted salmon is what a simple, summer dinner is all about! It's incredibly tender and topped with fennel, juicy oranges, and loads of fresh herbs.
If you haven't tried slow roasting a whole piece of salmon before, now's the time! It's not usually my go-to for a lightning fast salmon dinner recipe, such as my baked salmon. But when I've got about an hour to spare, I'm all for this succulent, meltingly tender roasted salmon.
And just a take a look at this beauty! It presents itself as a very impressive dish (which is great for dinner parties and serving guests), yet it's actually super easy to make. All you really have to do is garnish it with the herb, fennel, and orange topping. Once you've got everything beautifully layered on top pop it in the oven and slow roast it for a fresh, colorful, and healthy meal!
Ingredients:
1 ½ pound coho salmon (sockeye and king salmon also work)
3 tablespoons extra-virgin olive oil
1 orange
1 fennel bulb, halved and thinly sliced, reserving some fronds
1 shallot, thinly sliced
½ lemon, zested and juiced
2 teaspoons honey
½ cup chopped fresh herbs (basil, tarragon, dill, or mint)
½ teaspoon kosher salt
¼ teaspoon freshly cracked black pepper