White Bean Dip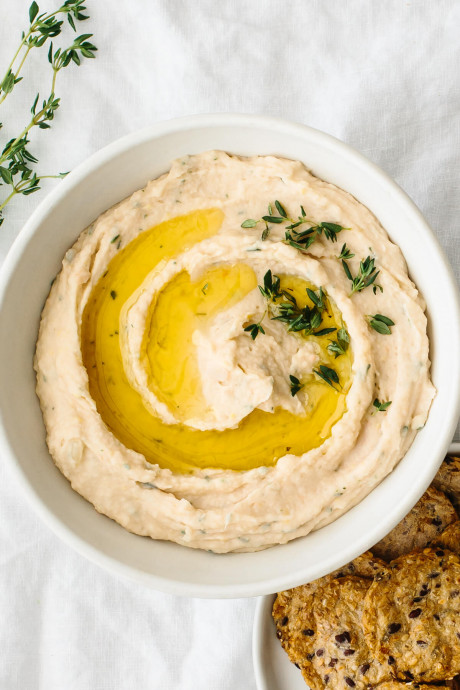 Switch up your dip routine with this super easy white bean dip! It's creamy, flavorful and a crowd-pleasing appetizer served alongside raw veggies or crackers.
Who knew that white beans could blend up into a dip this good? I'll admit, this might compete against my all time favorite hummus recipe. But it has a lighter, more herb-y vibe that makes it the perfect dip for sunny days and entertaining.
The white beans form the bulk of this recipe, but it's the lemon juice, garlic, and thyme that makes it so good. Plus, I love how it only takes a few minutes to whip up. So if you need a super quick appetizer or a bright addition to your meal – this white bean dip ticks all the boxes!
Let this recipe shine by making it the star of a crudite platter! But if you're whipping up a batch for yourself, here's a few other ways to make the most of it.
The perfect healthy snack: This tastes amazing with slices of cucumber, red bell peppers, carrots, and of course my flaxseed crackers.
Creamy sandwich spread: Spread this onto falafel flatbread or gluten-free toast for a bright, creamy touch to your sandwich.
Add to a buddha bowl: Dollop a spoonful on your next bowl for a protein boost!
Ingredients:
1 (15-ounce) can white beans (cannellini, great northern, or navy beans), drained and rinsed
2 tablespoons olive oil
1 tablespoon lemon juice
½ teaspoon lemon zest
1 clove garlic, minced
½ teaspoon salt
1 tablespoon thyme leaves, loosely packed, or 1 teaspoon dried thyme
garnish with extra olive oil and thyme leaves