Sheet Pan Potato Nachos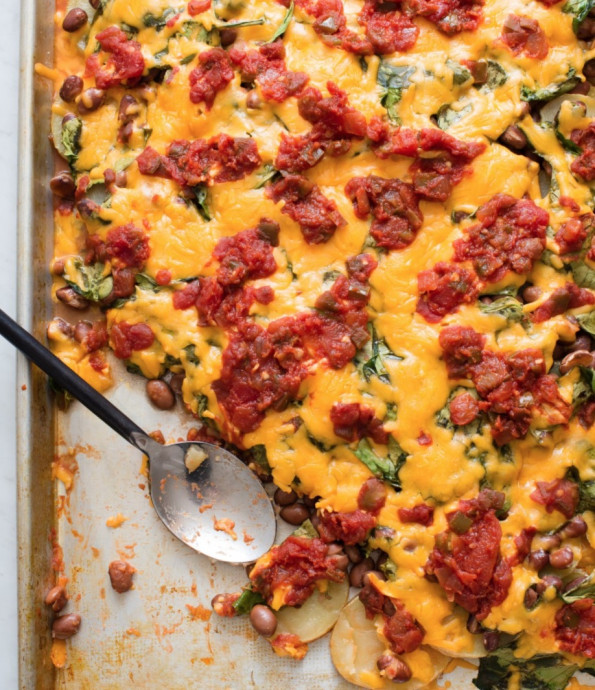 Nachos! That's pretty much the best answer you can give to your kids' favorite question about what's for dinner. And when you make them on potatoes and top them with a mix of flavorful toppings like beans, greens, and cheese, parents will be happy too.
The beauty of these potato nachos is that you can add as many or as few toppings as you (or, let's be honest, the kids) like. Add extras like chopped tomatoes, thinly sliced zucchini, or thawed frozen corn to a portion or all of the pan. Try it with sweet potatoes one week and colorful heirloom potatoes the next to mix up the vitamins tucked inside. Trade in cooked and shredded chicken or lean beef for the beans. hould you feel ambitious in the morning, you can make the whole recipe up until the last step, cover, and store in the fridge for up to 12 hours. Then simply warm in the oven and serve. (This can come in handy if you're prepping dinner before evening sports practices and activities.) These are delicious topped with just additional salsa, or with a drizzle of plain Greek yogurt too.
Ingredients:
Cooking spray
2 pounds Yukon Gold potatoes
Salt
2 (15-ounce) cans pinto beans, drained and rinsed
2 to 4 cups baby spinach
2 cups shredded cheddar cheese (8 ounces)
1 cup salsa
Hot sauce or Greek yogurt (optional)