Low-Carb Turkey Enchilada Casserole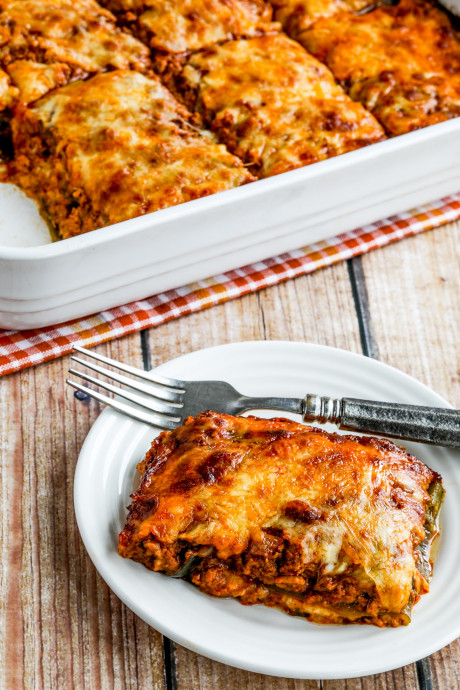 This Low-Carb Turkey Enchilada Casserole uses roasted green chiles, and this is so good that I've been known to eat leftovers for breakfast! And this tasty casserole is also gluten-free if you make sure to use gluten-free enchilada sauce!
I'm a casserole-loving girl, and I love to make Mexican casseroles that use those big cans of whole roasted green chiles. Green Chile and Chicken Mock Enchilada Casserole is the recipe that got me started making casseroles with whole green chiles, and this Low-Carb Turkey Enchilada Casserole is a tasty variation of that same idea that uses red enchilada sauce, ground turkey, Poblano chiles, and plenty of cheese. And this recipe just got a makeover with better photos!
This ground turkey enchilada casserole is a flavorful dish that will really get your tastebuds going! Of course you could make this with ground beef instead of turkey if you prefer, and there really are endless variations on this theme of whole green chiles layered with meat, cheese, and green or red enchilada sauce. Hope you enjoy trying some of them!
Ingredients:
1 onion, chopped in pieces about 1/2 inch or slightly smaller
1 large Poblano (Pasilla) pepper, chopped in pieces about 1/2 inch or slightly smaller
4 tsp. olive oil
2 lbs. ground turkey (or use ground beef if you prefer)
salt and fresh ground black pepper to season turkey
2 cans (15 oz.) red chile enchilada sauce (see notes)
3/4 cup sour cream (plus more for serving if desired, optional)
1 large can (27 oz.) whole green chiles (I used Hatch Whole Green Chiles)
2 cups grated Mozzarella cheese
1/2 cup grated Four Cheese Mexican Blend