Peppermint Oreo Poke Cake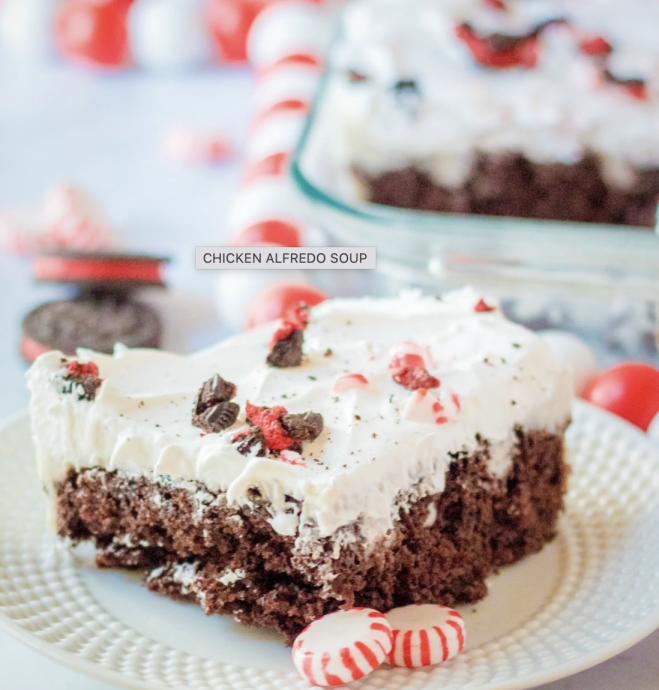 Peppermint Oreo Poke Cake uses a cake mix, cookies & cream pudding, whipped cream, Oreos & peppermint candies for a deliciously festive holiday cake! Easy Christmas cake recipe with peppermint cookie flavors.
Making this cookies and cream cake is easy, fun, and very low maintenance. It's the perfect dessert to bring to the table this holiday season or to enjoy in your own home. With a cold-serve cake like this, add a side of hot chocolate and you have yourself a perfectly sweet evening!
A poke cake is a cake often baked in a larger pan (like a 9×13) and then literally poked with the back end of a wooden spoon before having jello or pudding poured and spread over the top. Topped off with whipped topping and other ingredients a poke cake is easy to assemble, moist, flavorful, and fun to both make and eat. This particular cake uses crushed peppermint candies and cookies and cream pudding to get a unique and wonderful flavor fit for the holidays ahead!
Ingredients:
15.25 oz chocolate cake mix
1-1/4 cups water
1/2 cup vegetable oil
3 large eggs
4.2 oz instant cookies and cream pudding
2 cups milk
8 oz whipped topping
6 oreo cookies crushed
6-8 peppermint candies crushed