Salsa Verde Chicken Enchiladas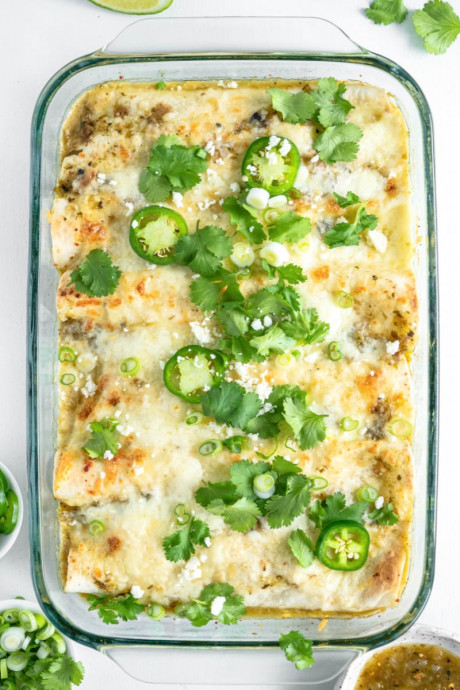 These Salsa Verde Chicken Enchiladas are the best green chicken enchiladas with two kinds of cheeses and a delicious filling too. Not all enchiladas are made with flour tortillas, but these are! They turn out wonderful. They're soft and delicious. There isn't an ocean of sauce poured on top, so you don't have to worry about the tortillas absorbing too much moisture. The filling is delicious, and the choice of cheeses used for these salsa verde chicken enchiladas is perfect.
Fresh cilantro leaves and chopped green onion make them look pretty. Jalapeño slices add a little spice. Fresh lime wedges give you the opportunity to add a little tangy flavor in there. And additional sour cream and/or avocado is delicious too.Set out a little "garnish bar" so everyone can garnish their salsa verde chicken enchiladas as they desire. Enjoy!
Ingredients:
FILLING:
2½ cups salsa verde, divided
4 cups cooked shredded chicken (about 1 rotisserie chicken)
3½ cups shredded Monterey Jack cheese, divided
1¾ cups crumbled Queso Fresco cheese, divided
¾ cup sour cream
1 teaspoon onion powder
1 teaspoon garlic powder
1 teaspoon dried oregano
1 teaspoon ground cumin
¾ teaspoon salt
½ teaspoon chili powder
¼ teaspoon ground black pepper
TORTILLAS:
Ten 10-inch soft flour tortillas
OPTIONAL GARNISHES:
fresh cilantro leaves
sliced jalapeno
sliced green onions
lime wedges