Bacon Cream Cheese Stuffed Mushrooms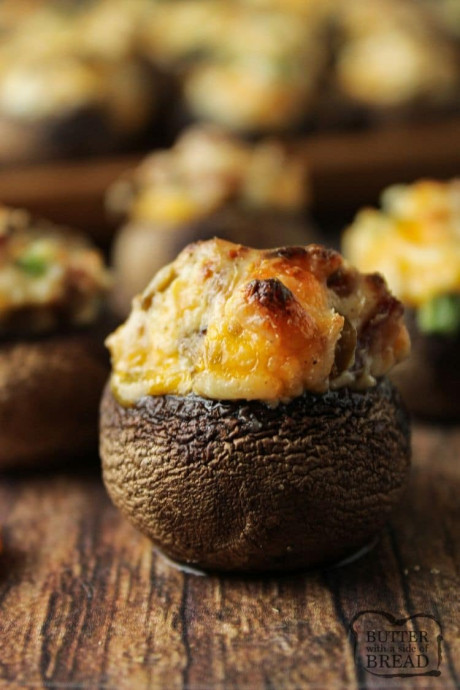 Stuffed Mushrooms are the perfect, simple appetizer. Filled with bacon, cheddar cheese, jalapeno and cream cheese, this finger food won't last long!
Who doesn't love a good appetizer? I think everyone does!! These are so easy to make, and I guarantee, you will get rave reviews when you show up with a plateful of these stuffed mushrooms at your next watch party, family get together or just dinner with the fam!!
Bacon Cheddar Jalapeno Dip is amazing on its own, but I am sure you are going to love how incredible it tastes stuffed in a mushroom!
To make this simple stuffed mushrooms recipe start by preparing the mushrooms. Remove the mushrooms from their packaging and rinse well in a colander under cold water. Place on a paper towel and pat dry to remove any stubborn dirt.
Now that the mushrooms are all clean and dry, you are going to remove the stems. To do this simply press the stem to one side of the mushroom until it 'pops', then pull the stem from the mushroom. Continue this process until all the stems have been removed. Do not throw the stems away.
Ingredients:
2 8 oz packages Cremini mushrooms, washed and stems removed
6 slices bacon
1 8 oz cream cheese, softened
1 cup cheddar cheese, grated
1 jalapeno, diced
1 tsp garlic powder