Gluten Free Peppermint Chocolate Donuts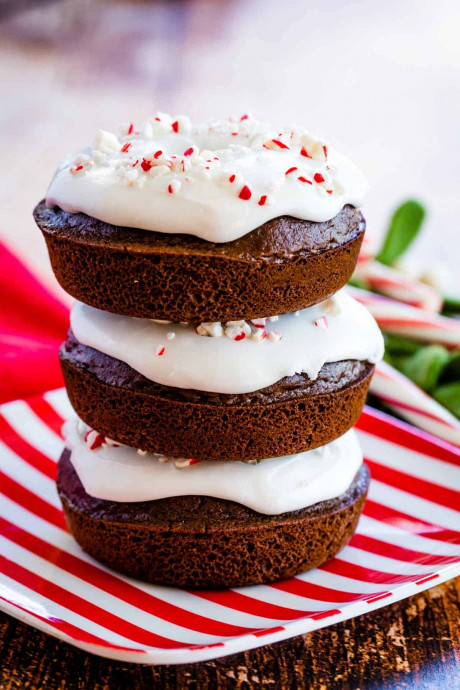 If you are looking for an easy and festive Christmas breakfast or dessert, these Gluten Free Chocolate Peppermint Donuts are sure to be a holiday delight! Baked chocolate donuts are dressed up for the season with a minty icing and bits of candy canes!
As soon as those iconic candy canes started showing up in stores this year, I've been excited to add them to some treats like Double Chocolate Peppermint Fudge and Peppermint Mocha Chocolate Bark. Nothing puts you more in the holiday mood than seeing classic red and white candy canes. So I decided it was time to make some Christmas donuts.
While I love fluffy Gluten Free Glazed Donuts, I truly think that peppermint is just begging to be paired with chocolate. That's why I whipped up a batch of gluten free baked chocolate donuts that are super fudgy and moist. Then I added a nice thick peppermint icing and a sprinkle of candy cane bits to finish it off. They might just be as pretty as they are delicious.
Ingredients:
For the Gluten Free Chocolate Donuts:
1 cup 1:1 gluten free flour (recommended: Bob's Red Mill 1-to-1 Baking Flour)
1/2 cup light brown sugar
1/3 cup cocoa powder
1 teaspoon baking powder
1/2 teaspoon salt
1/2 cup whole milk
2 Tablespoons vegetable or canola oil, or another neutral oil
1 large egg
1 teaspoon vanilla extract
For the Peppermint Icing:
1 cup powdered sugar
1/2-1 Tablespoon milk
1/2 teaspoon peppermint extract
crushed candy canes