Cauliflower Rice Tabbouleh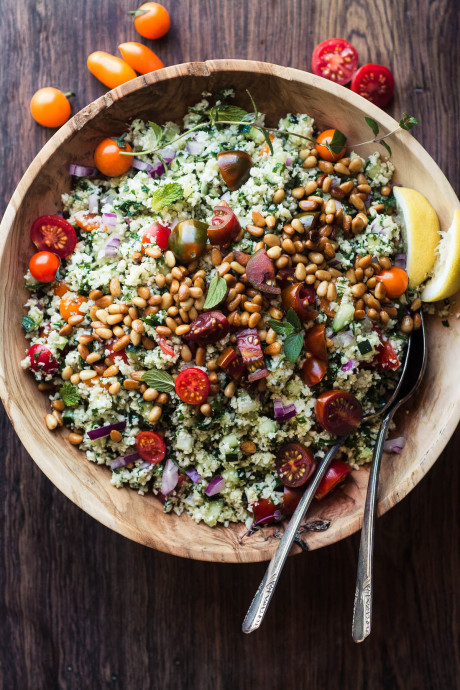 Cauliflower Rice Tabbouleh ~ a twist on the glorious Middle Eastern cracked wheat salad, made low carb and grain free using cauliflower rice. This is a light, clean, and healthy vegan salad that's always a conversation starter.
Cauliflower rice is simply raw cauliflower florets that have been pulsed in a food processor until they break down into a 'grainy' consistency like rice or couscous. It can be used raw, like I've done today, or you can steam it for a hot dish.
Cauliflower rice can be used as a grain substitute in lots of recipes, from tabbouleh to stir fries, and more. It can simply stand in for rice as a low-carb side dish.
You can make cauliflower rice with brightly colored orange, green, or purple cauliflower too, so get creative!
Ingredients:
1 small to medium head of cauliflower
2 cups halved small cherry tomatoes
1/2 small red onion finely minced
1 small cucumber finely chopped
1 large handful finely chopped fresh parsley
1 handful finely chopped fresh mint
1/2 cup pine nuts
olive oil
dressing
1/4 cup olive oil
juice of 1 lemon
salt and fresh cracked pepper to taste
garnish
lemon wedges
fresh mint leaves