Cheesy Hashbrown Potatoes Casserole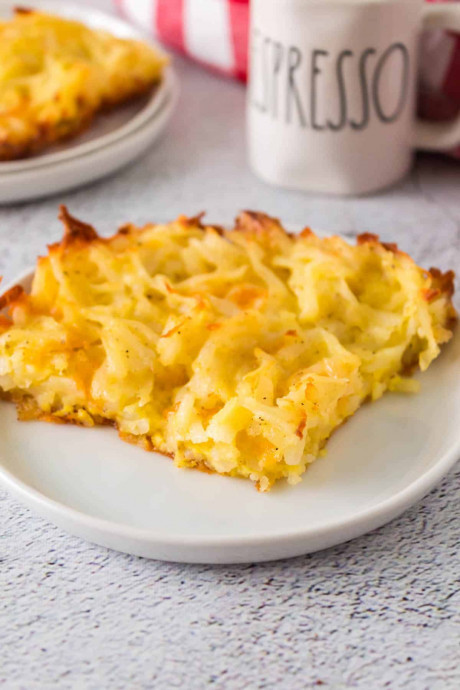 It doesn't get much better than golden brown and crispy potatoes with plenty of cheese. That's why this Cheesy Hashbrown Casserole makes a perfect side dish for every meal of the day, whether you serve it for breakfast, brunch, or dinner. So easy to make, and with only a handful of simple ingredients (and no can of condensed cream soup), it is naturally gluten-free.
What is a Hashbrown Casserole? These are usually creamy casseroles with shredded potatoes, condensed soup, sour cream, and shredded cheese.
Yes, it is delicious, rich, and super cheesy. But it can be a bit heavy and oftentimes not gluten-free. Plus, it gets away from the best part of hash browns – the crispy potatoes!
That's why this recipe works! All you have to do is mix together shredded potatoes, cheese, eggs, oil, and some simple seasonings, and bake. You still get that delicious cheesiness, but you also get the golden brown potatoes on the top and bottom, and lots of crispy edges, with a nice, soft interior.
It also makes a great potluck dish. You can serve it for a weekend brunch or make it ahead and reheat it for breakfast in the morning. It's a wonderful option for a holiday side dish with baked ham, or you can pop it in the oven while you make the rest of your quick and easy dinner on a busy weeknight.
Ingredients:
20 oz. bag of shredded hash brown potatoes
3 Tablespoons olive oil, divided
1 teaspoon garlic powder
½ teaspoon salt
¼ teaspoon freshly ground pepper
3 large eggs
¾ cup shredded Colby Jack cheese (about 6 oz.)