Spaghetti Casserole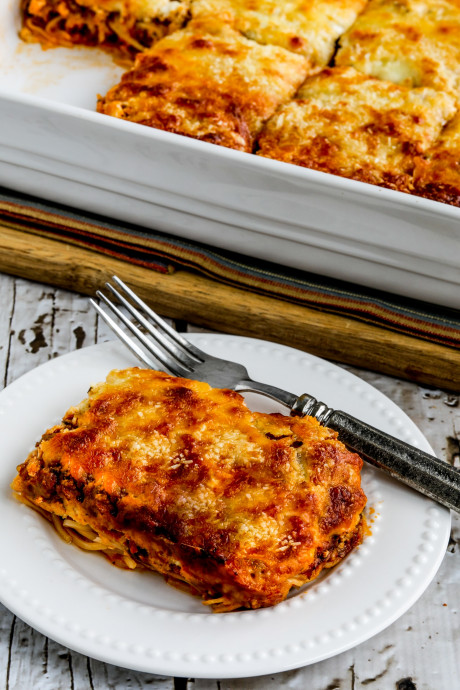 Make low-carb Spaghetti Casserole with Palmini Pasta for a delicious comfort food dish that's perfect when you want pasta without the carbs! Or make the original version with whole wheat spaghetti. This will be delicious either way!
I've been experimenting with Palmini Low-Carb Pasta, and my niece Kara and I have made some tasty recipes with the noodles made with hearts of palm, learning some tricks along the way to give the best flavor with this interesting ingredient. And we loved this low-carb version of Spaghetti Casserole that has Palmini Angel Hair Pasta, Italian Sausage, Ricotta Cheese, Mozzarella, Rao's Pasta Sauce and the perfect seasonings. And when Kara tried this out on her family, not even the kids could tell it wasn't regular pasta!
This is the kind of comfort food dinner that won't taste a bit like it's low in carbs! And it makes eight generous servings, so you can have it again another time, or even put some in the freezer! This is an updated version of a Spaghetti Casserole recipe I made for years with whole wheat spaghetti, and if that suits you better you can also find those instructions in the post.
Ingredients:
two 14 oz. cans Palmini Angel Hair (or use 8 oz. whole wheat spaghetti, broken into thirds)
1 T olive oil (more or less, depending on your pan)
1/2 cup finely chopped onion
2 T minced garlic (or less)
2 tsp. ground fennel
one 19 oz. pkg. Sweet Italian Sausage (see notes)
24 oz. jar Rao's Pasta Sauce (see notes)
2 cups Ricotta Cheese
2 eggs, beaten
2 tsp. Italian seasoning
2 cups grated Mozzarella Cheese
1/2 cup coarsely-grated Parmesan