Mini Everything Pretzel Dogs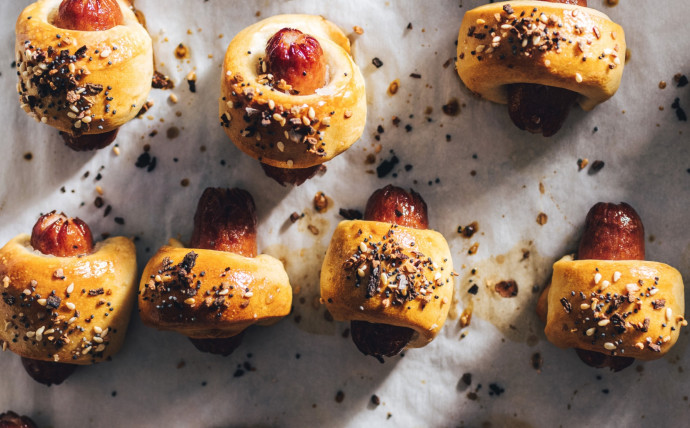 Mini everything pretzel dogs to celebrate the days getting chillier! Of course I like snacking on popcorn and chips and all that other good (bad) instant stuff, but if I'm really going to be committed, I love things like perfect nachos, miso hummus, or these mini everything pretzel dogs! Lately I've been all about the pretzels, but to take it up a notch, I wrapped pretzel dough around mini hot dogs and topped them with everything bagel spice.
I have to admit, I'm haven't been a lifelong everything bagel spice lover. In fact, I had my first everything bagel last year. But ever since then, I've been obsessed. I like to mix up a big batch – it's so easy – and sprinkle it on all the things! Even if you don't make these little dogs (although I hope you do), please make the everything bagel spice because I know you'll put it on literally everything. I think of it kind of like the American version of furikake, that addictive Japanese seasoning that you put on rice, vegetables, or fish. I've tried the everything bagel spice on rice and it's goooooooooood.
Ingredients:
1 1/2 tablespoon toasted sesame seeds
1 tablespoon poppy seeds
1 tablespoon dried garlic
1 tablespoon dried onion
2 teaspoons coarse salt