Pork Chops with Dijon Cream Sauce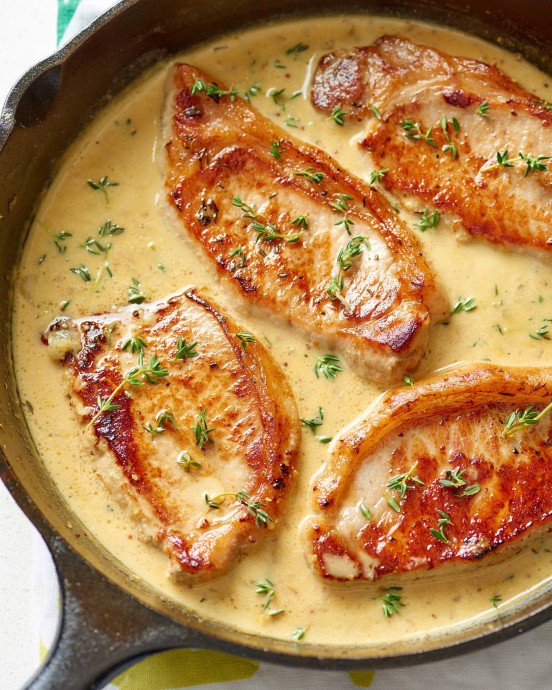 Pork Chops with Dijon Cream Sauce is a dreamy, delicious way to take plain old pork chops to a whole new level. These thick, juicy pork chops smothered in a garlicky dijon sauce will make you think twice about ever serving a plain old pork chop again!
I love the combination of pork, mustard, and apples — it always reminds me of Germany in the winter and how cozy it is to tuck into something rich and delicious when it's cold outside. But with flavors this good, you'll love them year-round.
Start with searing just one side of the pork to get some color and flavor going, then add the sauce ingredients and finish everything in the oven until the pork is just cooked through before it gets tough. You'll probably want to dip every bite of juicy pork into the sauce, and I won't blame you one bit.
It's easy, and tastes so good! The Dijon cream sauce is just lovely with the pork. There are a lot of great dishes that go with these boneless pork chops and dijon cream sauce.
Great served with a simple side salad, of course. Need something to help mop up all that yummy, savory sauce? How about mashed potatoes? Not in the mood for potatoes? Or, love mashed potatoes but need even more starch, I got you! Serve rolls or biscuits! Try roasting up some veggies like asparagus, green beans, or broccoli for an easy side you can cook up right alongside the pork chops.
To make these divine pork chops and the easy sauce for pork chops, you'll need the following ingredients:
4 boneless pork chops see note
salt and pepper, to taste
2 tablespoons butter
2 teaspoons oil
1 tablespoon butter
2 teaspoons minced garlic
1 cup chicken broth I used low sodium
2 tablespoons dijon mustard
1 cup heavy cream
1/2 teaspoon salt, or to taste
1/4 teaspoon cracked black pepper, or to taste