Baked Stuffed 3 Cheese Eggplant Roll Ups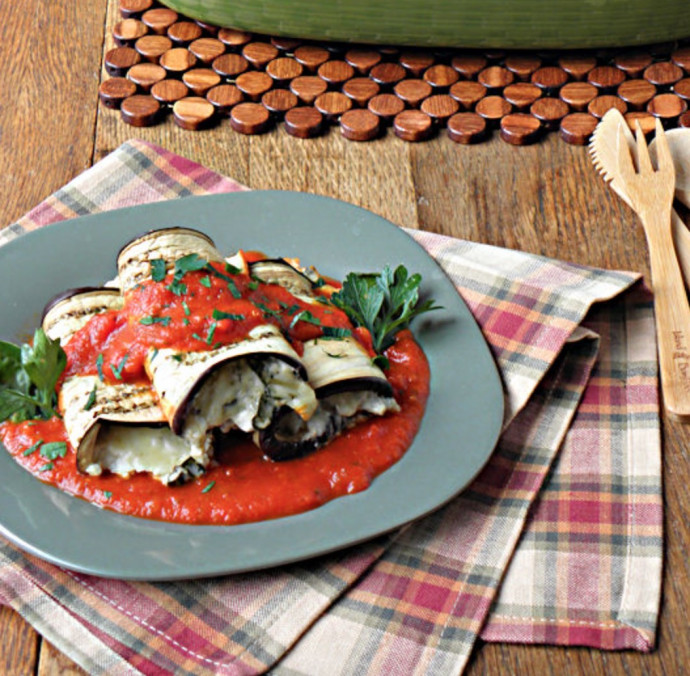 Baked Stuffed 3 Cheese Eggplant Roll Ups are a perfect dish for vegetarians and low carbers alike! Even if you may not be a fan of eggplant, you will most certainly enjoy this cheesy stuffed recipe. If you are a low carb-er you might be looking for other options than pasta. This dish won't make you feel deprived in the least! Filled with gooey goodness, rolled up and topped with tasty marinara sauce make these a perfect substitute to lasagna roll ups.
If fact that's where my inspiration came from to make this recipe. My gluten free lasagna roll ups are fantastic but having had my first garden this summer I've got a few eggplant on my hands. Also I've been lowering my carb intake lately so this was a match made in heaven.
Anyone who comes from an Italian background knows the importance pasta, sauce and cheese are to many recipes. Fortunately most Italians also love eggplant so making this a mock lasagna roll up will work for even the pickiest Italian family member! I'm confident here and will dare say none will shun their noses if you offer this up at a family get together.
Ingredients:
1 medium eggplant about 1 pound, thinly cut lengthwise
1 teaspoon salt
1 ½ cup cottage cheese low fat
½ teaspoon salt
1 egg beaten
½ cup grated Parmesan cheese
½ cup shredded mozzarella cheese
1 teaspoon minced garlic
1 teaspoon dried Italian seasonings
½ cup fresh chopped basil
2 cups marinara sauce