Potato Frittata with Spinach and Ricotta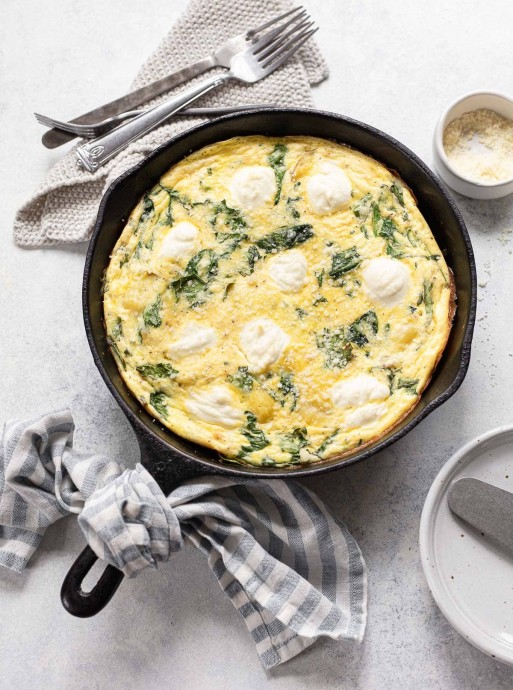 A moist and fluffy Italian egg and potato frittata packed with greens and topped with creamy ricotta cheese. Making a frittata is one of the best ways to combine eggs and potatoes for a simple meal. When the cupboard is almost bare or you simply have no energy to think about cooking much of anything, this potato frittata is exactly what you need in your life.
The finished dish looks like a rustic, thick cake and is perfect served for supper, lunch or brunch.
When it's sliced into wedges, you can see each one is stuffed with chunks of potato, swirls of greens and creamy pools of ricotta cheese.
A perfect Italian-style frittata has an interior that is just set (but not runny), so that every bite is moist and tasty. To achieve that texture, the eggs need to cook slowly on a medium-low heat so they don't turn rubbery. This frittata starts out cooking on the stovetop, with a brief sauté of chopped onions and a few minutes to wilt the spinach greens. Next, you pour in the eggs and let them set for a few minutes on the bottom. Then transfer the pan to the oven to finish cooking and fully set the frittata.
The easiest supper or brunch dish!
Ingredients:
1/2 pound Yukon Gold potatoes, about 2 medium unpeeled, halved lengthwise
Kosher salt
8 large or extra-large eggs
1/4 cup plain yogurt, sour cream or creme fraiche
1/4 cup freshly grated Parmesan cheese, divided
2 tablespoons extra-virgin olive oil
1/2 cup chopped onion
3 cups spinach, kale, or other leafy greens, torn into pieces
4 ounces whole milk ricotta cheese, drained of excess water