Easiest Cheese Quiche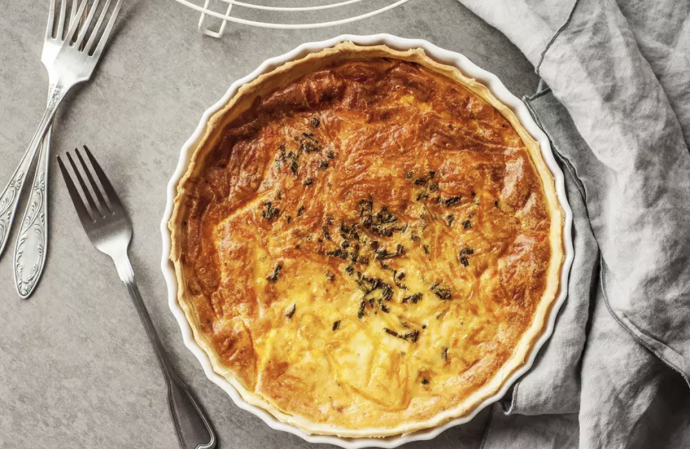 Quiche is one of those dishes that everyone should know how to make. It's not difficult, and this classic cheese quiche recipe is a perfect introduction to the favorite brunch dish. Made with just a few ingredients, it's quick and easy to throw together and serves as inspiration for your own custom quiche creations.
Often associated with French cuisine, quiche is a savory egg custard baked in pie crust. The base comprises eggs, milk, and cream, cheese, and any variety of ingredients are added for flavor. This cheese quiche uses cheddar, and Swiss cheese is a nice addition. You can use any shredded cheese you like; one winning combination is havarti, colby, and Parmesan.
Quiche is an excellent choice for any meal, including a busy weeknight dinner. It can even be prepared in advance and refrigerated or frozen, then quickly reheated. Favorite quiche side dishes include green salad, a bowl of mixed fruit, a simple tomato soup or chilled gazpacho, and roasted veggies.
Ingredients
1 refrigerated pie crust, or homemade pie crust
3 cups shredded cheddar cheese (or a combination of Swiss and cheddar)
4 large eggs
1 cup milk
1/2 cup heavy cream
3 tablespoons all-purpose flour
1 to 2 teaspoons dried chives
1/4 teaspoon kosher salt
1/8 teaspoon pepper