Mini Ham and Cheese Croque Monsieur Puff Pastry Tarts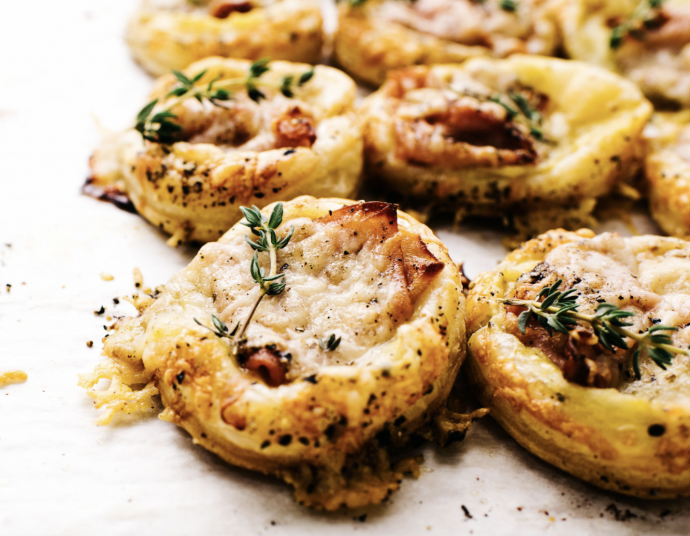 Croques have fancy French names, but basically they're grilled ham and cheese sandwiches topped with béchamel – a creamy white sauce. They're crisp and gooey, decadent and rich, and absolutely addictive. I like making croque monsieurs with a bit of mustard – it really helps cut through the richness and adds an extra dimension of flavor.
Funnily enough, I never used to like mustard. But now that I'm a grown up, mustard is one of my all time favorite things. I love trying out different varieties because they all lend such different flavors to whatever they're complimenting. French's just came out with two new mustards, Sweet Yellow Mustard and Spicy Yellow Mustard, and they fit in perfectly for a fun French picnic idea that I had. The real secret to these tarts is the mustard béchamel. Usually, when I'm making croque monsieurs, I just go ahead and spread some mustard on to my bread, but for these little guys, I came up with the brilliant idea of putting French's Spicy Yellow Mustard into the béchamel. I contemplated going with French's Sweet Yellow Mustard, which would have paired wonderfully with the ham, but I was in a spicy mood.
Ingredients:
1 1/2 tablespoons butter
2 tablespoons flour
1 cup milk
1 – 2 tablespoons French's Sweet Yellow Mustard or Spicy Yellow Mustard
salt and pepper to taste
1 sheet puff pastry, thawed
12-16 thin slices of ham
1 cup shredded gruyère
1 egg, lightly beaten with a splash of water
additional 1 – 2 tablespoons French's Sweet Yellow Mustard or Spicy Yellow Mustard, to spread if desired
fresh thyme sprigs, if desired