Best Homemade Chicken Pot Pie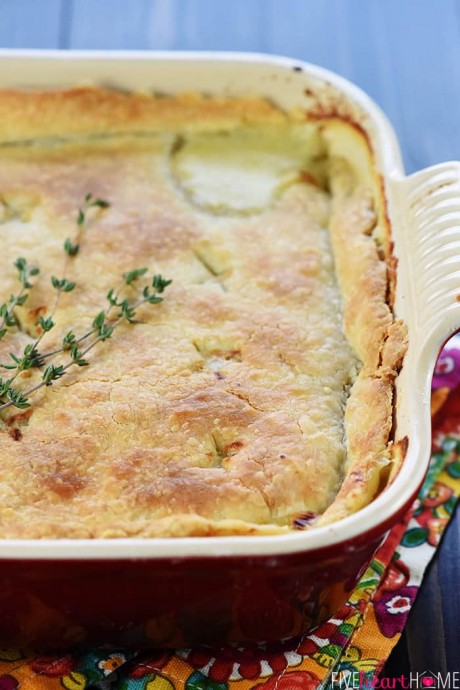 The best Homemade Chicken Pot Pie features juicy chicken and tender veggies under a flaky, buttery crust for a delicious comfort food classic!
There are countless ways to make Homemade Chicken Pot Pie, but this here version is just the way my family likes it, and I do believe you'll go crazy for it, too. It's made with real, wholesome ingredients and it's surprisingly easy to throw together. And it's so darn delicious I could seriously eat it once a week!
This is a great recipe any time you need to use up leftover chicken or turkey. If you don't have leftovers, you can quickly poach some chicken breasts or (my favorite short-cut) pull the meat from a rotisserie chicken. In addition to your choice o' poultry, it's loaded with chunks of potato, matchstick carrots, and green peas. There's also some half-and-half and a splash of white wine to add extra richness to the silky sauce that envelops the meat and veggies. You can totally leave those out if you wish, but I'm not sure why you would. And a homemade, all-butter pie crust takes this recipe from great to amazing! Perfect for a family get-together!
Ingredients:
4 tablespoons butter
2 large cloves garlic, minced
2 cups matchstick, or diced carrots
2 1/2 cups diced cooked chicken, or turkey
1/3 cup all-purpose flour
2 cups low-sodium chicken broth
1/2 cup half-and-half
Splash of white wine, optional
1/2 teaspoon dried thyme
1/2 teaspoon garlic powder
1/4 teaspoon onion powder
1/2 to 1 teaspoon salt, to taste
Freshly ground black pepper, to taste
1 large potato, cooked, peeled, & cubed (about 2 cups)
1 1/2 cups frozen green peas
1 unbaked pie crust