Lemon-Dijon Asparagus And Pea Macaroni Salad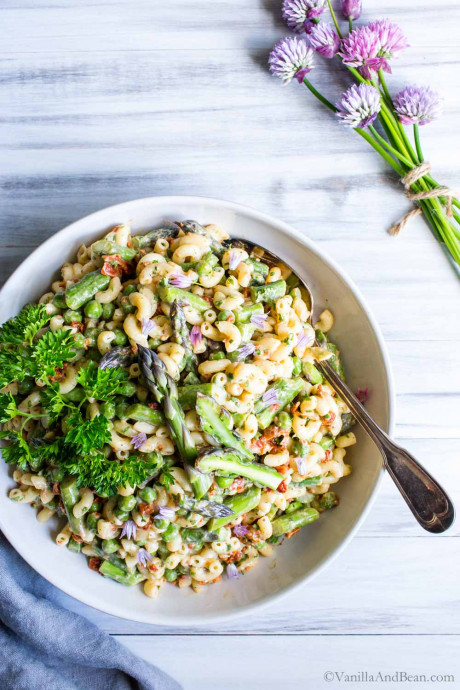 Texture, flavor, creamy and make-ahead easy, Lemon-Dijon Asparagus and Pea Macaroni Salad is packed with spring veggies and is a welcomed summer and spring pasta salad to picnics, BBQs and potlucks. This recipe is vegan, vegetarian and easily gluten free.
This spring pasta salad comes together in about 30 minutes, with the pasta cooking water serving double duty to cook the asparagus and peas too! In summary, here's how to make this easy pasta salad recipe (see recipe card for details):
First, put the pasta on to boil. When the pasta is almost done, plunge the asparagus in with the pasta, then the peas so they can gently blanch. Drain and rinse under cool running water. Toss into a large mixing bowl and chill.
Next, in a small bowl whisk the mayo, lemon, dijon mustard, garlic salt and pepper.
Last, to the large mixing bowl, add the sun dried tomatoes, fresh herbs and pour on the dressing. Mix and chill until ready to enjoy!
This pasta salad with peas and asparagus is a lip smackin', texture rich and creamy macaroni salad that's fabulous for sharing. It's easy (something I rarely say when it comes to cooking) to pull together too, requiring only one pot to cook the pasta, asparagus and peas. Whip the dressing up while the pasta chills in the fridge and it's ready.
Ingredients:
2 C (9.5oz / 265g) Elbow Macaroni Pasta* gluten free if needed (see note)
1 lb (480g) Fresh Asparagus , tough ends removed and sliced on the bias into bite size pieces
1 1/2 C (200g) Frozen Peas
2/3 C (120g) Sun-dried Tomatoes marinated, drained and chopped
1/3 C (15g) Curly Parsley finely chopped
1/3 C (10g) Chives finely chopped, add chive flowers too for garnish if available.
For the Dressing:
1/3 C + 1 Tbs (100g) Mayo I like Vegenase
1 1/2 Lemons - juiced + zest from one** (see note)
2 Tbs Dijon Mustard
1 tsp Garlic minced or grated, about 2 large cloves
1 1/2 tsp Fine Sea Salt
Plenty of Fresh Ground Pepper