Beef and Veggie Noodle bowls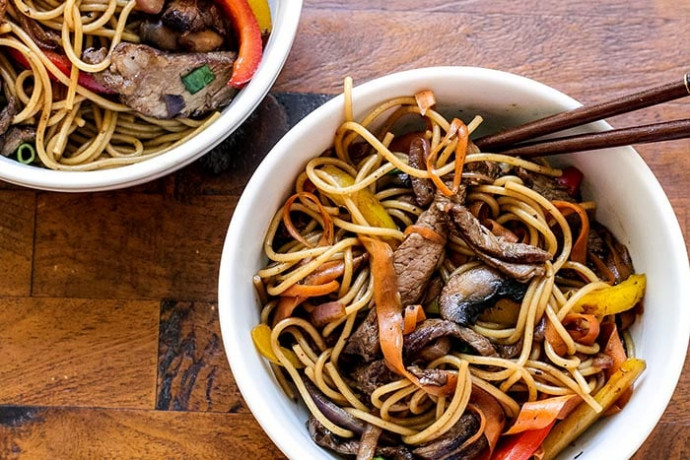 These beef and veggie noodle bowls are a great way to satisfy a take-out craving without picking up the phone or leaving the house! They're packed with lots of veggies, tender beef, and noodles that are tossed in a savory sauce. Got leftover veggies? Make these beef and veggie noodle bowls!
This recipe uses not just one or two kinds of leftover veggies – I used up five different kinds veggies plus some leftover beef. Bell peppers, carrots, scallions, red onion, and mushrooms – it's all in there along with a soy/oyster/garlic-chili sauce that packs a lot of flavor with a hint of heat. Plus, it's simple to make (if you don't mind some chopping) and takes all of 30ish minutes start to finish, which was like a gift after spending 20-something hours making demi-glace this weekend (more on that later this week).
So in the spirit of this quick and easy dinner I'm keeping this one short and sweet — have a great start to the week, everyone!
Ingredients:
For the Noodles
8 ounces spaghetti
1 teaspoon toasted sesame oil
For the Sauce
1/4 cup soy sauce
1 tablespoon rice wine vinegar
1 tablespoon brown sugar
1 tablespoon oyster sauce
1 tablespoon garlic-chili sauce, or to taste (see note)
1 teaspoon cornstarch
For the Veggies and Beef
1 tablespoon vegetable oil
5 ounces flank steak or skirt steak (see note)
8 ounces sliced cremini mushrooms
1 medium-sized bell pepper, sliced (or use a mix – I used a 1/2 red and 1/2 yellow)
1/2 medium-sized red onion, thinly sliced
2 medium-sized carrots, thinly sliced (see note)
2 scallions, sliced