Roasted Garlic and Caramelized Onion Potato Galette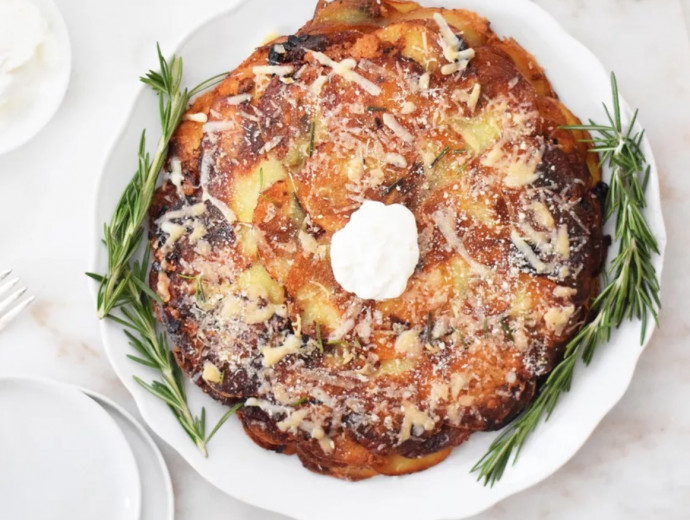 Potato galette is an irresistibly crispy tart that goes perfectly alongside roast chicken, beef tenderloin, or ham. The word galette is French and simply means "flat cake." It's a term that incorporates lots of different dishes like thin rustic pies as well as layered starch-based cakes like this potato one. Serve for dinner, lunch, or as a brunch side dish.
We found that regular butter works great, but if you want to take extra caution to avoid burning the bottom of your galette, you can use clarified butter. You can also up the flavor by using duck fat in place of the butter. This recipe includes roasted garlic and caramelized onions, but if you are running short on time, you can simply use sliced onions and minced garlic. The flavors of the garlic and onion will be more intense and less sweet, but just as delicious.
Ingredients:
2 1/2 pounds Yukon Gold potatoes
5 ounces (10 tablespoons) salted butter, melted, divided
2 medium onions, sliced
1 1/2 teaspoons kosher salt, divided
6 cloves garlic, roasted, minced
1 tablespoon cornstarch
1/2 teaspoon garlic powder
1/2 teaspoon freshly ground black pepper
1 cup grated Asiago cheese
1/4 cup grated Parmesan cheese, plus more for garnish
Fresh rosemary, for garnish
Sour cream, for garnish