Vegetarian Gyros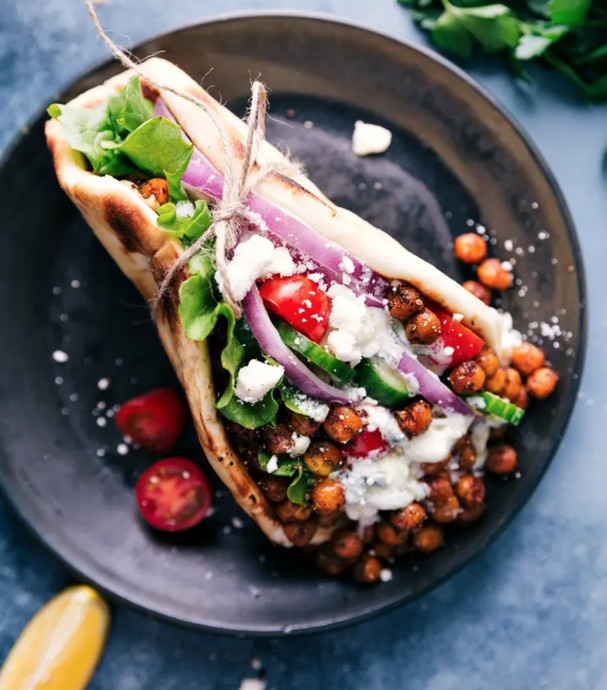 You won't miss the meat in these Vegetarian Gyros–they're loaded with robustly-seasoned and perfectly roasted chickpeas, a medley of veggies, and our favorite Tzatziki sauce. This easy, weeknight meal can be ready in about 30 minutes or less if you've got an air fryer! The other day, my husband and I were chatting about the place we want to visit next when travel restrictions lessen a bit and we both agreed Greece is the top spot on our bucket list. While my husband is more interested in history and architecture, I'll admit the food is my biggest driving factor.
I love Greek food — the flavors, the freshness, the vibrancy, and don't even get me started on feta cheese — yum!
While I've shared some Greek-inspired Gyros over the years (these Chicken Gyros are a family favorite), I decided it was time to share a vegetarian version that uses chickpeas as the base. I wasn't totally sure how these would go over with the family, since they love chicken gyros so much, but everyone was obsessed with this recipe! Bonus — they're actually a whole lot quicker to make than meat-filled gyros, which is nice for a quick weeknight dinner.
Ingredients:
Chickpeas
1 can (15 oz.; 439g) chickpeas (garbanzo beans)
2 tablespoons olive oil
2 teaspoons EACH: paprika, dried oregano
1 teaspoon EACH: dried basil, garlic powder
Fine sea salt & cracked pepper
2 pita breads
Optional: prepared hummus
For serving: green leaf lettuce, halved or thinly sliced cherry tomatoes, thinly sliced Persian/English cucumber, feta cheese, fresh lemon wedges
Sauce
1/4 cup (35g) grated English/Persian cucumber
1/4 cup (54g) plain whole Greek yogurt (we love Greek Gods)
2 and 1/4 teaspoon olive oil
3/4 teaspoon red wine vinegar
1 and 1/2 teaspoon freshly squeezed lemon juice + 1/4 teaspoon zest