Beef Pot Pie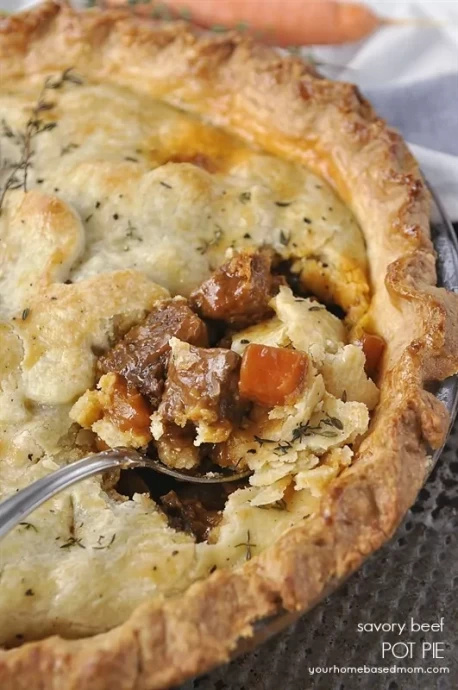 Fall means it is time to add some good old fashioned comfort food to your menu. Hearty crock pot meals, soups, and this delicious beef pot pie. Grandmothers have been making pot pies for generations. And nothing represents comfort food any better than a homemade beef pot pie.
A frozen pot pie has its place, but a homemade pot pie is divine. You can make this beef pot pie recipe a little quicker by using a pre made pie crust. Or you can use pie crust recipe which really is easy and delicious! The filling for the pot pie is a combination of steak, carrots, chicken broth and seasoning. The meat and veggies are browned and then baked until nice and tender.
The combination of tender and savory meat, veggies and flaky pastry crust is divine and will satisfy every craving for comfort food you might have! Savory Beef Pot Pie is pure comfort food at its finest, just like grandma used to make.
Ingredients:
1 1 1/2 - 2 lb sirloin, trimmed and cut into 3/4-inch pieces
Salt and pepper
3 Tbsp olive oil
1 onion chopped fine
2 carrots peeled and cut into 1/2-inch pieces
2 Tbsp tomato paste
4 garlic cloves minced
3 Tbsp all-purpose flour
1 3/4 cups beef broth
1 Tbsp soy sauce
1 Tbsp Worcestershire sauce
1 bay leaf
1 1/2 tsps chopped fresh thyme
1 large egg lightly beaten
1 9-inch store-bought pie dough round