Broccoli Cheddar Quiche (Gluten Free!)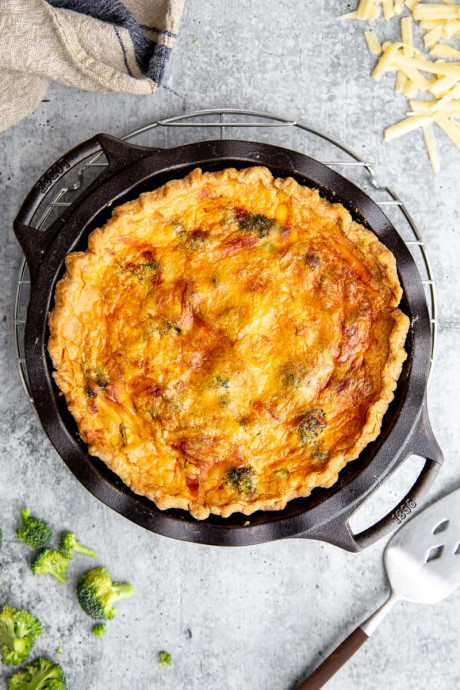 This broccoli quiche is going to blow you away—it has the creamiest, lightest egg custard with pockets of savory broccoli, a cheesy top, and a buttery flaky crust. Best of all, it can easily be made gluten free, and I promise you that nobody will have a clue.
For me, quiche is one of those dishes that feels special. Maybe it's because I used to linger over warm wedges in French cafés as a study abroad student, or because it's a holiday brunch staple, or because it's essentially a pie (and as you may know, I LOVE pie), but for me, quiche feels celebratory. While oftentimes quiches are quite heavy and stodgy, this gluten free quiche is light and silky with an incredible flavor thanks to a few easy techniques.
This quiche is made with my Foolproof Pie Crust. The crust is buttery and flaky, and you can easily make it gluten free. You'll need a half batch of the dough. The pie dough can be made months ahead (however, if you're really strapped for time you can also use a store-bought pie crust).
Ingredients:
Crust
½ batch Foolproof Pie Dough (recipe link in profile), or one 9-inch pie crust
Filling
2 tablespoons extra virgin olive oil
2 large garlic cloves, smashed and peeled
1 small shallot or ½ medium shallot, thinly sliced
8 ounces broccoli (about ½ bunch), cut into small 1-inch florets (2 ½ cups small florets)
Pinch red pepper flakes
Salt and freshly ground black pepper
2 tablespoons water
Custard
3 large eggs
1 ½ cups half and half
½ teaspoon fine sea salt
Quiche
1 tablespoon Dijon mustard
¼ cup grated parmesan cheese
½ cup shredded cheddar or gruyere cheese