Easy and Crispy Hash Brown Breakfast Bites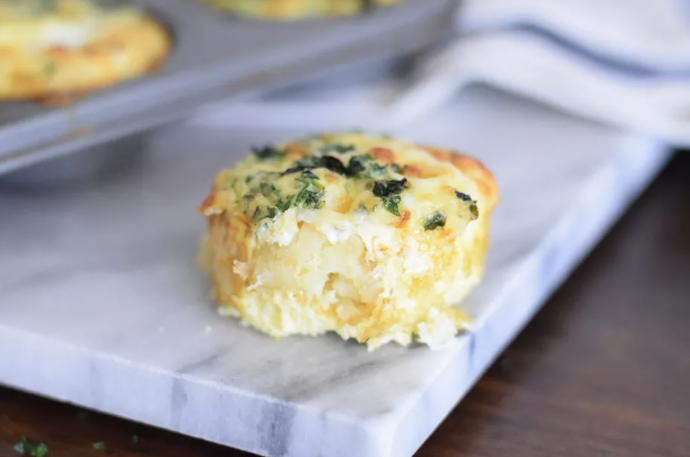 These days, breakfast is all about being fast and efficient. A quick, easy, and tasty breakfast is so important. These hash brown omelet bites are the perfect complete breakfast that you can make in large batches and take on the go. They are a great way to start your day.
They have eggs, cheese, potatoes, and veggies all in one. Using prepared frozen Tater Tots or hash browns saves you time and tastes delicious. You could also use cooked and chopped potatoes if you have some on hand.
You can totally customize these omelet bites to your liking. Add different veggies like peppers and onions. You can also use different cheeses like pepper jack, Gouda, or Gruyère. Bacon, sausage, or ham also make a great addition to these cups and add an additional punch of protein. Just make sure to fully cook any meat before adding them to the cups as the eggs will cook faster than raw meat will.
It's really important to make sure you completely thaw the frozen Tater Tots and the spinach. You want the least amount of water in the cups as possible. Make sure to drain the spinach as well. Also, make sure to completely grease each muffin tin to help get a crispy crust that will pop out of the muffin tin easily.
You can freeze these omelets after you cook them and reheat them later. They are definitely best when they are fresh. You can easily cut this recipe into smaller portions and just fill part of your muffin pan. You can also make a larger batch if you are looking to serve them at a brunch buffet.
Ingredients
Cooking spray
24 to 36 frozen Tater Tots, or 1 pound frozen hash browns, thawed
6 large eggs
1/2 cup milk
Salt, to taste
Freshly ground black pepper, to taste
1/2 cup chopped spinach, fresh or frozen, squeezed of excess moisture
1 cup shredded cheddar cheese