One-Pot Mexican Chicken and Rice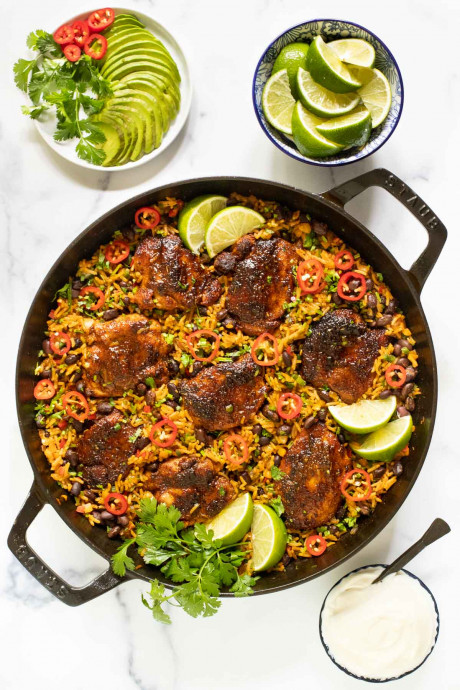 This fabulous Mexican Chicken and Rice comes together in one skillet in way less than an hour. It's loaded with fresh veggies, lean chicken and lots of south-of-border flavor!
If you enjoy south-of-the-border flavor and meals that come together quickly but you like to steer away from heavy, high-calorie, cheese-laden entrees, this easy, one-pot Mexican Chicken and Rice might just have your name written all over it! It definitely has mine!
This Mexican Chicken and Rice recipe comes together easily and can be prepped ahead to make things super simple right before dinner. I call it "One-Pot" but it's actually a one-skillet recipe. You'll need a 12-inch skillet, unless you decide to halve the recipe, which will work nicely in a 10-inch skillet. This is one of those dishes that reheats beautifully so it makes great leftovers, work lunches and meals on the run. It can be made in advance and simply warmed in the oven before serving. Give it about 20-25 minutes at 300˚F (150˚C).
Ingredients:
For the rub:
2 tablespoons brown sugar
2 teaspoons garlic salt
2 teaspoons smoked paprika
2 teaspoons dried oregano
2 teaspoons cumin
1 teaspoon ground coriander
1 teaspoon onion powder
1 teaspoon ground black pepper
1 teaspoon chili powder
For the chicken and rice:
1 ¼ pounds boneless skinless chicken thighs trimmed of excess fat and cut into servcing size pieces
1 tablespoon butter
1 tablespoon extra virgin olive oil
1 medium sweet yellow onion diced small
2 medium yellow, orange or red bell peppers diced small (I use red, orange and yellow mini peppers, see Café Tips for conversion)
1 medium jalapeños halved, seeded and finely chopped
4 garlic cloves finely minced
1 cup basmati rice (uncooked)
1½ cups low sodium chicken broth
15 ounces canned black beans (1 can) rinsed and well drained
1 teaspoon kosher salt
To finish:
¾ cup finely chopped fresh cilantro
1-2 medium jalapeños halved, seeded and finely chopped
Serve with lime wedges sliced fresh red chilies, sour cream, avocado slices and/or tortilla chips, for optional garnishes