Freezer-Friendly Green Chile Chicken Burritos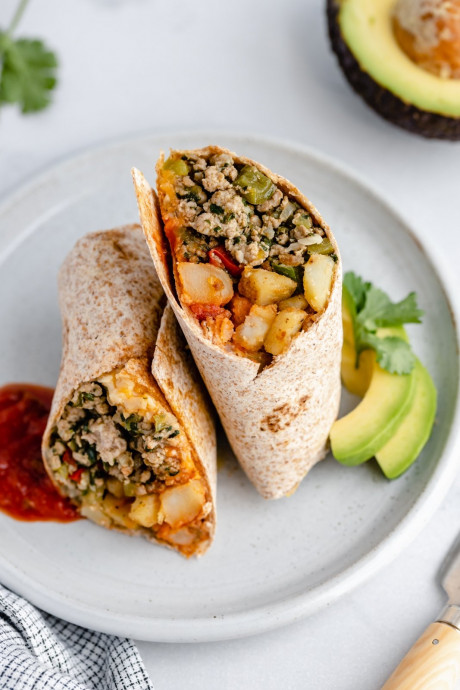 Absolutely delicious freezer friendly green chile chicken burritos loaded with veggies, protein, perfectly spiced potatoes and a dash of salsa and cheese. Make the filling for this easy chicken burrito recipe in just one skillet and freeze the extra burritos to enjoy quick, filling dinners for weeks to come!
For these green chile chicken burritos you'll find a recaito sauce, chicken, deliciously spiced potatoes and plenty of yummy add-ins. Here's what you'll need:
For the recaito: garlic, yellow onion, red and green bell peppers, cilantro, jalapeño and diced green chiles. More notes on what recaito is below!
For the chicken: lean ground chicken (or ground turkey works too), cumin, salt & pepper.
For the potatoes: gold potatoes and garlic powder.
Delicious add-ins: your favorite salsa or enchilada sauce (my homemade enchilada sauce recipe would be perfect in here!) plus your favorite shredded cheese.
Burrito-sized tortillas: feel free to use corn tortillas, flour tortillas, whole wheat or gluten free.
Ingredients:
For the recaito mixture:
1 tablespoon olive oil
3 cloves garlic, minced
½ cup very finely diced yellow onion
½ cup very finely diced green bell pepper
½ cup very finely diced red bell pepper
½ cup very finely diced cilantro
1 jalapeno, seeded and finely diced
1 (4.5 ounce) can diced green chiles
For the chicken:
1 pound lean ground chicken (or turkey) 93%
2 teaspoons ground cumin
½ teaspoon salt
Freshly ground black pepper
For the potatoes:
1-2 tablespoons olive oil
2 ½ cups diced gold potatoes (½ inch diced)
½ teaspoon garlic powder
Add-ins:
½ cup your favorite salsa or enchilada sauce
1 ½ cup shredded Mexican blend cheese (or any kind of shredded cheese you'd like)
For the burritos:
8 burrito size tortillas (regular, whole wheat or gluten free)