Mushroom Spinach Bacon Egg Cups (low carb!)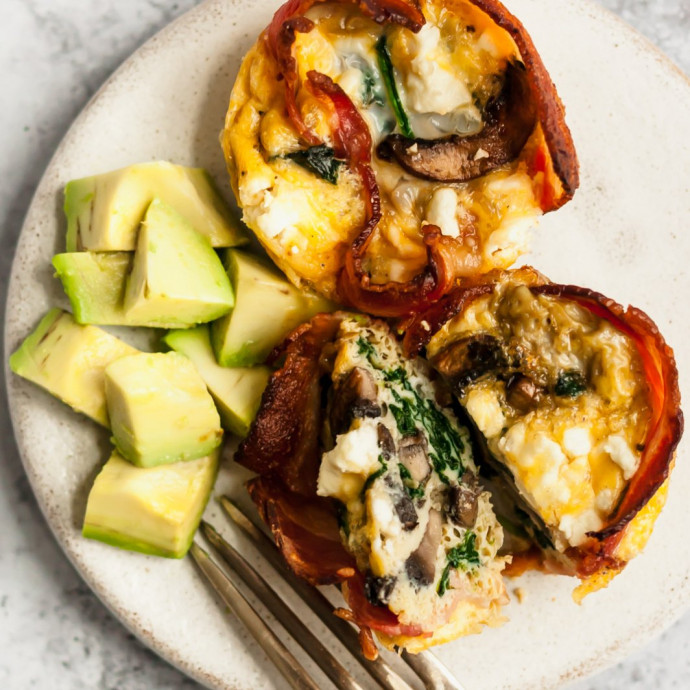 Delicious low carb bacon egg cups with a boost of veggies from mushrooms and spinach, plus crumbles of feta in every bite. You'll love these healthy, make-ahead bacon egg cups that are packed with protein and take just 30 minutes to make. They're easy to customize and make paleo, too!
After a good sweaty session at the gym, there's nothing I love more than coming home to a delicious, already made breakfast waiting for me in the fridge. Agree?
That's where these easy make ahead bacon egg cups come in! I can't tell you how many times I've eaten one or two of these straight out of the fridge, simply because I was starving and wanted something quick, or because I was in need of a quick grab and go breakfast.
I know keto, low carb, and whole30 diets are all the rage these days and these bacon egg cups pretty much check all the boxes if you're into that thing.
Even if you don't subscribe to a certain diet (like me!), they're perfect to serve the family for brunch because not only are these bacon egg cups packed with protein and veggies, but they're also SO easy to make!
Ingredients:
10 slices good-quality bacon (from 1 package of bacon)
½ tablespoon olive oil
1 clove garlic, minced
8 ounces baby bella mushrooms, sliced (optional)
3 cups packed organic spinach
6 large eggs
¼ cup unsweetened almond milk (any milk will work)
Freshly ground salt and pepper
⅓ cup feta or goat cheese crumbles (or any cheese you'd like)