Vietnamese Zucchini and Carrot Salad with Peanuts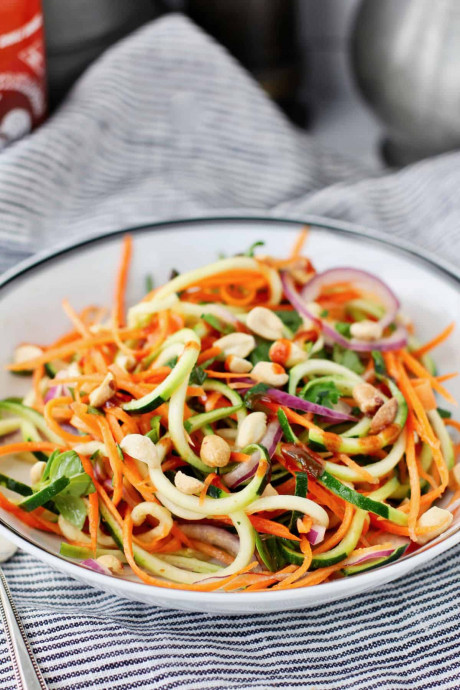 This Vietnamese Zucchini and Carrot Salad with Peanuts is incredibly light, refreshing, and flavorful. Tossed in a bright simple dressing, this crunchy and colorful salad is easy to make and so refreshing to eat.
This salad is made with spiralized zucchini, or "zoodles," shredded carrots, and thinly sliced red onions, all tossed together with a dressing of lime juice, fish sauce, and a bit of sugar.
I resisted the urge to buy a spiralizer gadget, mostly because I pretty much have run out of room for any more kitchen tools, but I finally broke down and bought a tiny one to use the first time I made this salad.
It worked great with the zucchini, creating long uniform "zoodles." However, it was also pretty tedious to use and does not work well on firmer vegetables such as potatoes or sweet potatoes.
To serve the salad, top it with chopped roasted peanuts and a bottle of Sriracha sauce on the side (if you like a little spiciness). I sprinkled my salad with a few dashes of Sriracha sauce. So good!
This salad made the perfect lunch. The peanuts added the right amount of salty crunch, and the red onions, mint, basil, and cilantro added to the freshness of the salad. I loved it. A lot!
Ingredients:
3 tablespoons fresh lime juice
1 tablespoon fish sauce (I recommend Red Boat)
1 tablespoon granulated sugar
1 pound spiralized zucchini
5 ounces peeled and shredded carrots
1/4 cup thinly sliced red onion
1/4 cup packed torn fresh basil
1/4 cup packed torn fresh cilantro
1/4 cup packed torn fresh mint
1/2 cup roughly chopped dry roasted salted peanuts
Sriracha sauce