Homemade Garlic Knots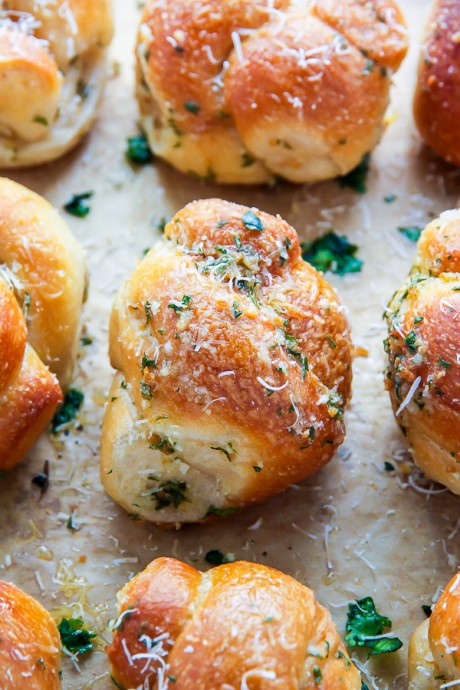 Chewy and delicious Homemade Garlic Knots! This yeasted dough recipe is straightforward and sure to be a big hit with your family and friends! And the dough is freezer-friendly! These garlic knots are super delicious on their own – especially straight from the oven – but also go great with a side of marinara sauce. A classic Italian pizzeria snack, garlic knots are strips of pizza dough tied in a knot, baked and then topped with melted butter, garlic and parsley.
These garlic knots are simply the best, because: they are made from homemade dough, they are super soft and fluffy with delicious Italian herb seasoning and extra garlic butter.
You can use the entire batch of dough for 16 knots or you can use half of the dough to make a pizza with 8 knots on the side. Save some of the garlic butter to brush onto the knots as they come out of the oven, then top each with fresh parmesan and chopped parsley. The parmesan and parsley are completely optional, but make an awesome garnish.
Perfect for pizza night– no delivery required.
Ingredients:
3 and 3/4 cups bread flour
1 and 1/2 teaspoons granulated sugar
1 envelope active dry yeast
2 teaspoons salt
1 1/2 cups warm water, 110 - 115 degrees (F)
2 tablespoons plus 2 teaspoons olive oil, divided
1 stick unsalted butter
6 cloves garlic, minced
1/2 cup fresh parsley, minced
1 and 1/2 teaspoons garlic salt
1/4 cup Parmesan cheese, grated