Spring Rice Noodle Salad With Chili Maple Peanuts, Celery & Peas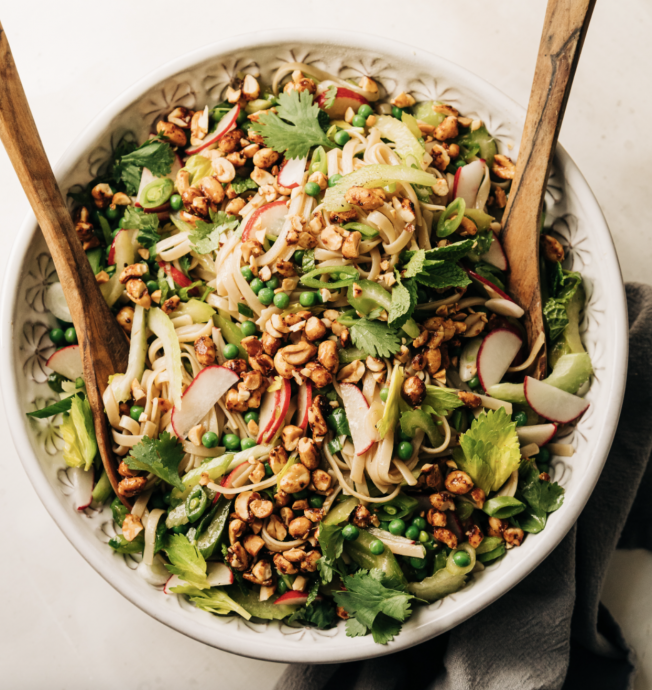 This 30 minute spring rice noodle salad is loaded with fresh and crisp vegetables, flavourful herbs, a simple and punchy dressing, and crunchy spicy-sweet peanuts. This vegan and gluten-free dish is a satisfying side for any protein that you're serving up.
I dress the salad with a punchy but simple dressing of coconut aminos, lime, rice vinegar, chili oil, avocado oil, black pepper, and a hint of sweetness. The dressing on its own will taste slightly unbalanced. Maybe too acidic and possibly too salty for some tastes? I've learned that this is an ideal strategy for noodle salads! It all balances out in the end.
Celery is the main focus of the veg here, but I couldn't resist some other Spring-y add-ins like peas, chopped snap peas, and radishes. A heavy hand with the green onions, mint, and cilantro is also a major contributor to the success of this salad.
Ingredients:
Chili Maple Peanuts (makes extra)
1 cup roasted and salted peanuts
2 ½ tablespoons maple syrup
½ teaspoon ground chillies
Dressing
¼ cup plus 1 tablespoon coconut aminos
2 tablespoons lime juice
3 tablespoons rice vinegar
¼ cup avocado oil or other neutral oil
½ – 1 teaspoon chili oil
1 teaspoon cane sugar/agave nectar/maple syrup
ground black pepper, to taste
Rice Noodle Salad
16 oz Brown rice noodles
avocado oil
sea salt and ground black pepper, to taste
3 sticks celery, finely sliced
1 heaped cup snap peas, chopped
1 cup frozen peas, thawed (could also use fresh shelled peas)
3 green onions, sliced thin
⅓ cup mint leaves, chopped
⅓ cup cilantro leaves, chopped