Spicy Pepperoncini, Artichoke & Kale Dip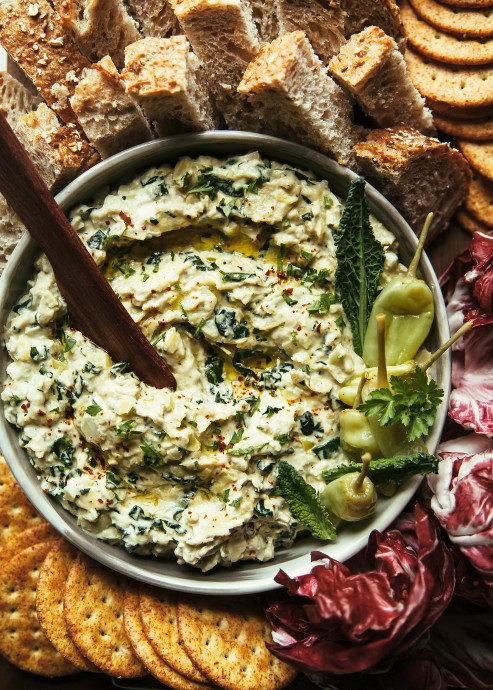 Spicy pepperoncini, artichoke and kale dip is super creamy, crowd-pleasing, dairy-free, vegan, and delicious with a slight spicy kick.
Sneaking in with a super easy artichoke and kale dip before the big day tomorrow. I think it's a fact that most people love a dip. This one has all the comfort and familiarity of a typical creamy and cheesy artichoke dip, but obviously I've remixed it a bit. It comes together quickly and is made with 10-ish ingredients total. A holiday entertaining win!
Warm artichoke dip is super popular this time of year, and while I was working on this recipe, I noticed that a lot of sites/magazines label this dish as "hot" artichoke dip–a nod to it being baked and served hot obviously. Right away, my brain went to actually making the dip hot and spicy (and also warm) because I enjoy making everything spicy.
Ingredients:
DIP:
¾ cup raw cashews, soaked for at least 2 hours and drained
1 tablespoon light miso
½ teaspoon lemon zest
1 tablespoon lemon juice
1 teaspoon Dijon mustard
3 tablespoons nutritional yeast
1 ½ teaspoons onion powder
6 pepperoncini peppers, stems removed & divided (+ more if you want spicier)
sea salt and ground black pepper, to taste
¾ cup filtered water
2 tablespoons olive oil
12 oz frozen artichoke hearts, thawed and chopped
3 cloves garlic, minced
2 cups finely chopped fresh kale, packed
TO GARNISH:
vegan "parm"
chopped parsley
chili flakes
extra pepperoncini peppers