Tomato Pie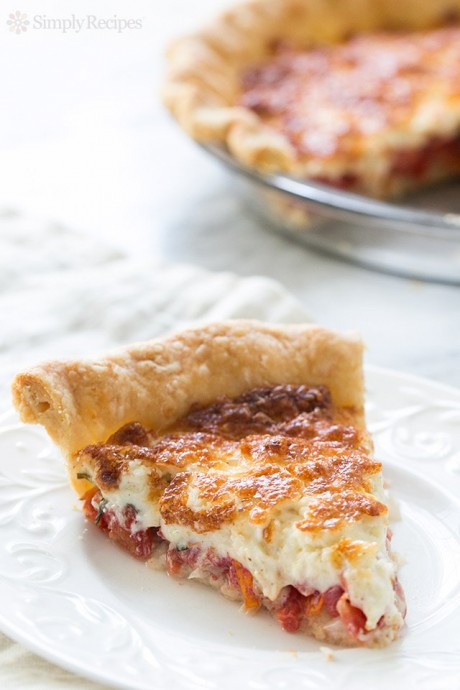 Tomato Pie! Fresh chopped tomatoes, basil and onions, topped with mixture of shredded cheese and mayonnaise, baked in a pie shell.
It's a savory pie, not sweet, filled with fresh garden tomatoes, sprinkled with basil, and held together with a mixture of mayonnaise and shredded cheese. The egg in the mayo acts as a binder to help hold the filling in place.
The recipe lends itself to estimates. Handfuls of this, handfuls of that. I measured, but you could eyeball it and it would still work out. Feel free to change the cheeses around, play with the spices. I made a homemade pie crust, but for this recipe a good quality prepared crust would work fine. You could also bulk it up a bit more with a cup or so of fresh corn, or some small diced eggplant that has been lightly browned on the stovetop first.
Perfect for a family lunch or a light dinner with friends! Serve with fresh arugula and any of your favorite vegetables!
Ingredients:
1 9-inch pie shell
1/2 cup chopped yellow or red onion (about 1/3 onion, diced)
3-4 tomatoes, cut in half horizontally, squeezed to remove excess juice, roughly chopped, to yield approximately 3 cups (700 ml) chopped tomatoes
1/2 teaspoon kosher salt
1/4 cup sliced basil (about 8 large leaves)
2 cups (8 oz, 225 g) grated cheese (combination of sharp cheddar and Monterey Jack, or Gruyere or Mozzarella)
1/2 cup (120 ml) mayonnaise
1 teaspoon (or more to taste) of Frank's Hot Sauce (or Tabasco)
Freshly ground black pepper